Israel has made sophisticated David's Sling missile interceptor system, which is touted as an "existential danger" to its enemies, operational. The air missile defence system was inaugurated by Prime Minister Benjamin Netanyahu in a ceremony held at the country's Hatzor Air Force Base on Sunday, 2 April.
While the incoming short-range missiles would be intercepted by existing Iron Dome defence system, David's Sling, formerly nicknamed Magic Wand, would tackle the projectiles fired from a medium-range of 40-300kms (25-190 miles) such as Hezbollah's M-600.
"We have pioneering technology here and Israel continues to lead the world in this field," Netanyahu was quoted as saying by Haaretz. He warned: "Whoever seeks to hit us will be hit. Whoever threatens our existence places himself in existential danger." David's Sling is jointly developed by the Israeli state-run Rafael and its US partner Raytheon. The US had pumped in about $1.4bn (£1.1bn) since 2006 towards developing David's Sling.
David's Sling will fill the gap between the Iron Dome and the Arrow rocket defence systems, which are designed to intercept short range and long-range ballistic threats, respectively. While the Iron Dome has been widely credited with successfully intercepting indiscriminate rocket attacks from Gaza, Arrow was put to use in early March when it downed an anti-aircraft missile fired by Syrian forces.
Induction of David's Sling completes Israel's complementary multi-layer missile defence system which has been under consolidation for several years.
Besides the three-tier protection, Patriot missile defence batteries, which are primarily meant do bring down manned and unmanned aircraft, will also remain operational until it is gradually phased out by David's Sling. The defence systems are being boosted amid increasing frictions with some of Israel's adversaries – Hezbollah, Hamas, Syria and Iran.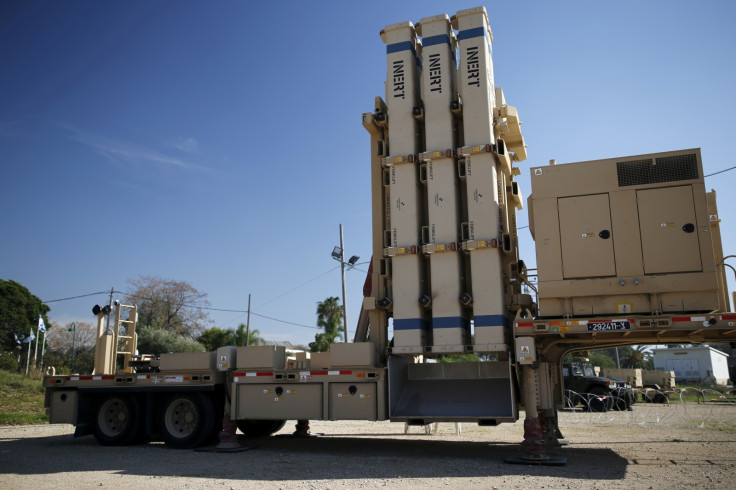 When asked about David's Sling's capabilities in shooting down Burkan rockets that have a heavier warhead and are in possession of the Palestine Islamist group Hamas, Israeli officials answered in affirmative. Brigadier General Zvika Haimovitch, the commander of the air defence operations, said: "In this race, we always want to be ahead of the other side. 'David's Sling' gives us another layer, another ability, and I'm convinced that the next system will be more complex – but will also meet a more proficient and qualified defence system."