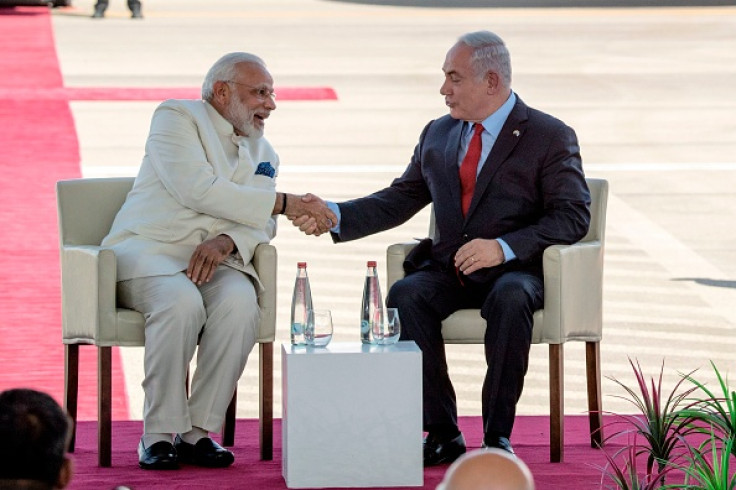 Israel named a flower after Indian Prime Minister Narendra Modi to mark the first visit by an Indian leader to the Middle East nation.
Modi began his three-day official visit on Tuesday 4 July. He and his counterpart, Benjamin Netanyahu, visited the Danziger "Dan" flower farm in Mishmar Hashiva, where they were briefed on the latest technologies used in floriculture.
During the visit, the farm announced that the Israeli Chrysanthemum flower would now be named Modi.
A Twitter handle affiliated with the Israeli government said: "New fast-growing Israeli [Chrysanthemum] flower named in honor of PM @narendramodi and will be called "MODI". Indeed, a #GrowingPartnership!"
India's External Affairs Ministry Spokesperson Gopal Baglay said the gesture was a "symbol of blooming relationships".
He added the visit at the flower farm reaffirmed the "potential of deeper cooperation in agriculture" between the two nations.
India and Israel have had relations for the past 25 years. Cooperation between the two has been limited because of India's reliance on oil imports from Arab countries and Iran, and its large Muslim population. But the two countries are now set to build closer ties.
Modi and Netanyahu are expected to hold talks to strengthen cooperation on terrorism, trade and defence and secure several deals. India is also seeking to advance sales and the production of missiles, drones and radar systems.
Netanyahu said Modi's visit is "historic" and that it would deepen cooperation " in a wide range of fields - security, agriculture, water, energy - basically in almost every field Israel is involved in," according to Reuters.
The Israeli prime minister is expected to accompany Modi for most of his trip, a treatment normally reserved only for top level guests such as the US president. Unlike several others leaders have done while visiting the area, Modi will not travel to Ramallah, the seat of the Palestinian Authority.