Israel-Palestine: Inside Yitzhar – the settlement that loves to hate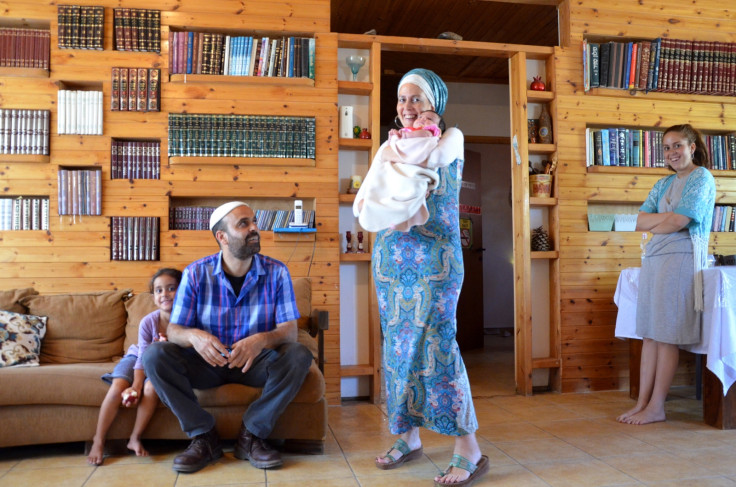 Just over an hour's drive from Jerusalem along Highway 60 in the West Bank, a ring of Israeli settlements sit like watchtowers on the hills surrounding the Palestinian city of Nablus and at least 10 smaller Arab villages. Yitzhar, a radical outpost of about 240 Jewish families, is the most infamous of them all.
The settlement has long been associated with radical Zionism and particularly the so-called Hilltop Youth, a loose group of pro-settlement activists that are accused of carrying out acts of vandalism and violence against Palestinians and their property in the West Bank.
Known as "price-tagging" – as the perpetrators believe they are exacting a price from Palestinians either for attacks on Jews or for perceived weakness of the Israeli government – the spate of hate crimes has increased over the past two years, culminating in an arson attack last month that killed a Palestinian toddler and his father and was blamed on Jewish extremists.
On an arid hilltop on the outskirts of the village, Ezri Tubi gestures across the valley that separates his radical Zionist settlement from the Palestinian cities and villages that surround it. This, Tubi believes, is all Jewish land and the Israelis that live here are fulfilling a promise made by God millennia ago.
Because of that, Tubi defends "price tag attacks" even as the Israeli government has led a wave of arrests of far- right Israelis and a promise from Israeli leaders that the attackers that struck in Duma would be found.
"In general I think 90% of people don't agree with price tag attacks but here the language in the Middle East is [that] if someone slaps you, you slap them back. That way he respects you and you respect him. There is a lot of common sense behind the idea of the price tag attack – the grass-roots Arab respects a settler when he stands up to him," Tubi told IBTimes UK from Yitzhar.
The number of price tag attacks carried out across the West Bank has risen steeply this year, with both the Greek Orthodox seminary in Jerusalem and the Benedictine Church of Multiplication in Tagbha torched by suspected pro-settlement activists.
The attacks come off the back of the burning of the iconic Church of Loaves and Fishes on the shores of the Sea of Galilee earlier this year and another arson attack on a bilingual Jewish school Max Rayne Hand and Hand School in November 2014.
As the wave of violence continues, Tubi, 45, has been fielding phone calls from media and his wife, Ora Tubi, 39, has been trying to speak out in defence of the 1,400 residents, including 50 members of the so-called hilltop youth that live in Yitzhar and seven surrounding outposts.
Both freely admit they are hard-core in their views and on a holy mission to settle land they believe is accorded them in the Bible and which they refer to as Judea and Samaria. They say they are victims of Israeli's political left and the media which brands the Jewish settlement near Nablus as an extremist bastion at war with local Palestinians living under occupation and lately the government of Israel.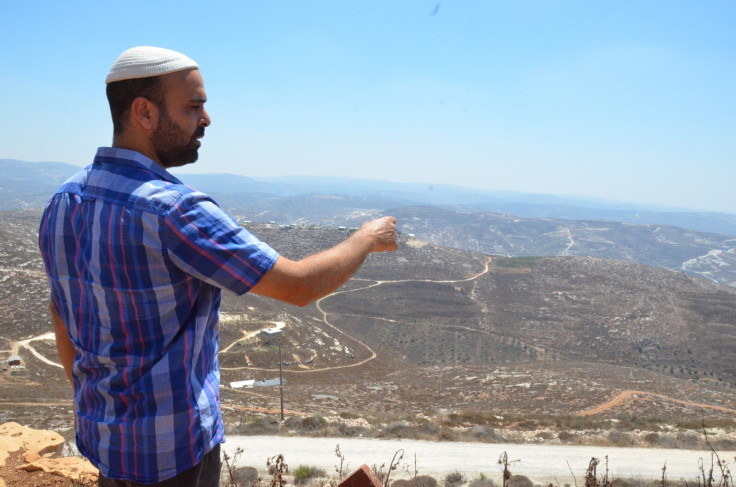 "The [Duma] attack was a stupid thing to do, I don't think it was smart, but on the other hand I don't think we should start begging for the world's forgiveness either.
At the same time, Tubi argues that the Duma attack could have been perpetrated by Arabs. "I do believe it could be the result of an inner conflict between residents in Duma," he said. His wife agreed: "I am 100% convinced this is a dispute on lands between Arabs."
When asked if violence against Palestinians was acceptable, Ora said: "I don't have any answers for that, violence is not my language" but she added that anecdotally price-tag attacks appear to dissuade local Arabs from assaulting Jews living in settlements in the West Bank.
"There was a girl who was badly burned here when a Molotov cocktail was thrown into their car. I think we have to show our presence here and I think the thing to do is to go to the village and destroy property and turn the place upside down so that people wouldn't forget that day," she said.
Israeli prime minister Benjamin Netanyahu condemned the fatal arson attack on the village of Duma calling it an act of "Jewish terrorism" and launched a crackdown that included arresting a number of ultra-nationalist Jewish settlers.
Under the so-called "price tag" phenomena a "price" is exacted whenever Israel attempts to stop Jewish settlement expansion in the West Bank. Internal security in Israel estimates there are up to 500 members of extremist settler groups like the hilltop youth but that only up to 100 are involved in violent and fatal attacks like the one in Duma.
The attack on 31 July that left two members of the Palestinian Dawabsheh family dead and the mother on life support in an Israeli hospital with third-degree burns over 90% of her body and her four-year-old son Ahmad with third-degree burns is believed to be a price tag attack exacted after the Israeli government demolished illegally built houses in the settlement of Beit El.
Tagged on the wall outside the Dawabsheh's bedroom window were the phrases "long live the Messiah the king", "price tag" and the word "revenge".
Until now the Israeli government has made no major move to clampdown on Jewish extremists. Last year calls mounted for hard-line Jewish settlers to be classified as terrorists. Former Israeli justice minister Tzipi Livni and former internal security minister Yitzhak Aharonovitch argued right-wing extremists should be classified as terrorists after attacks on soldiers were carried out in Yitzhar.
At the time Israeli prize laureate author Amos Oz compared hard-line Jewish settlers carrying out price-tag attacks on Palestinians to neo-Nazis. "Our neo-Nazi groups enjoy the support of numerous nationalist or even racist legislators, as well as rabbis who give them what is in my view pseudo-religious justification," the 76-year-old said at an event in Tel Aviv.
After the attack on Duma the Netanyahu-led government approved strict measures to curb "Jewish terrorism". The measures allow Israeli terrorism suspects to be held under "administrative detention" – without charges or a trial for months, even years – a punishment previously only meted out to Palestinian suspects in the West Bank.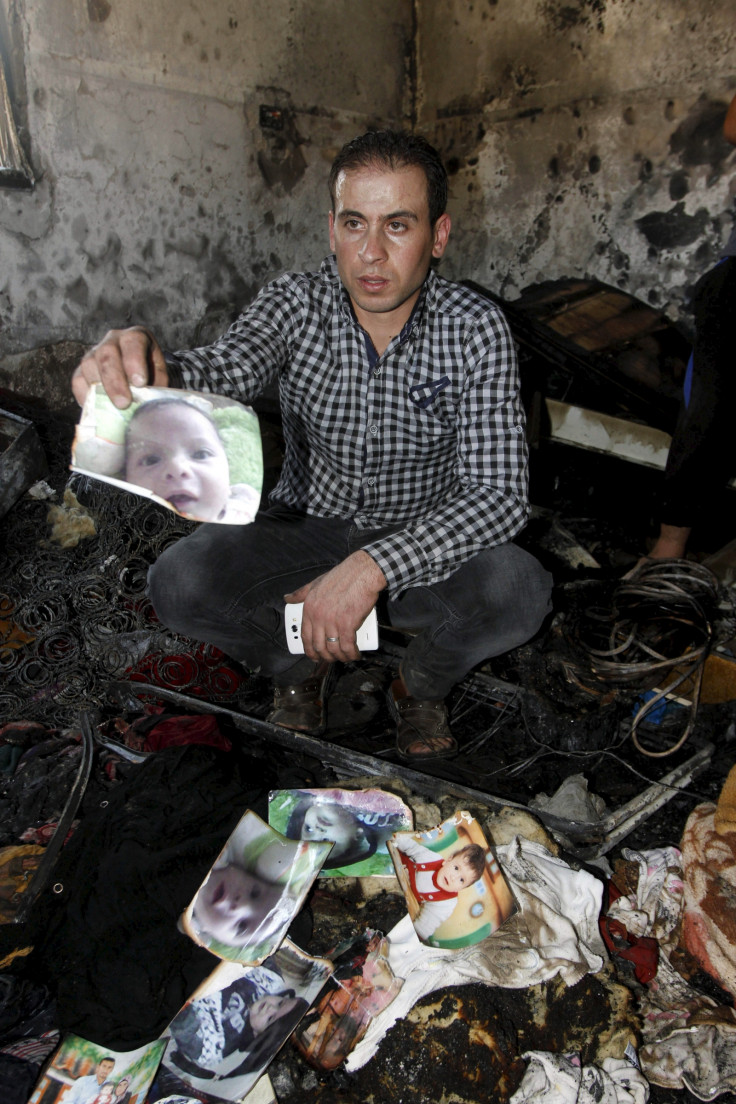 After the legislation was passed Israeli authorities arrested the unofficial leader of the hilltop youth and Yitzhar resident Meir Ettinger, 23, the grandson of Brooklyn-born Rabbi Meir Kahane. He advocated for a Jewish state based on Torah law and the expulsion of Palestinians. Kahane was elected as a member of the Israeli parliament but was banned for racism. He was assassinated in 1990 in New York. Shin Bet, the Israeli security agency, says Ettinger led an underground Jewish terrorist movement that may be to blame for recent attacks on Muslim and Christian targets.
Tubi disagreed with the clampdown by the government on Jewish offenders. "People's trust here in the court is not massive – once you say something against the IDF [ Israel Defense Forces], or you back up price-tag attacks I think you're marked and signed as someone to be taken care of," he said.
Yitzhar residents are already known for their aggressive interactions against Israeli military. Last year a government order to demolish a settlement outpost was met with violent protest. The Israeli army took over the Od Yosef Chai yeshiva, a religious school inside Yitzhar, saying its rabbis were inciting violent acts of retribution – price-tag attacks – against Palestinians and Israeli soldiers. The army withdrew a month ago.
Tubi who served in the Israeli army and is now in reserve, admits when he first moved to the West Bank settlement Itamar as a 26-year-old, near the Palestinian city of Nablus, he would have been considered one of the hilltop youth
Tubi and Ora were both born in Israeli cities Netanya and Beit Shemesh but became more religious in their twenties. They were then the first family to live in an outpost set up by Avri Ran, the father of the hilltop youth movement – a term used to describe nationalist youth from controversial settlements in the West Bank. The couple now have five children and have lived in Yitzhar for 13 years in a wooden house that Tubi built.
"I think the beliefs of the hilltop youths are right – the fact that a Jewish person stands up for his right to live in dignity – we agree with their basic feeling that life is cheap," said Ora.
The couple quickly became part of the group, which was the first to establish illegal outposts outside existing Jewish settlements.
Today the hilltop youth receives financial assistance from local community councils and state ministries and is protected my Israeli military. Members of the hilltop youth have been linked to price tag attacks including vandalism of Palestinian schools and mosques as revenge for the demolition of their outposts – however no one has yet been convicted of being involved with such vandalism.
When IBTimes UK asked Tubi if he would have condoned an act of violence like the one that resulted in the death of the Palestinian toddler and his father in Duma his reply was clear: "Absolutely."
© Copyright IBTimes 2023. All rights reserved.