Israel's President Reuven Rivlin has withdrawn an invitation for pop star Amir Benayoun to perform at a state ceremony next week because lyrics in the singer's latest song "Ahmed Loves Israel" are seen as racist.
In the song, which reflects the current mutual mistrust between many Jews and their neighbours, particularly the Palestinians, Benayoun sings provocative lyrics including: "It's true that I am just ungrateful scum, It's true, but I am not guilty, I wasn't brought up on love. It's true that the moment will come when you will turn your back on me, and I'll stab you right in the back."
Benayoun had been invited to perform at next week's state ceremony which marks the expulsion of Jews from Iran and neighbouring Arab countries, but President Rivlin, whose mostly ceremonial role consists of proving moral guidance to the nation, has now withdrawn the invitation.
In a written letter to the organisers, Director General of the President's Residence, Harel Tubi, said: "Against the background of the release of Amir Benayoun's latest song yesterday, I wish to notify you that we will not be able to allow him to perform at the President's Residence."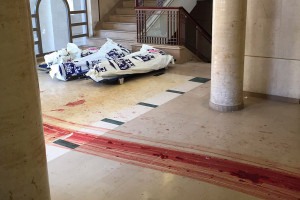 After paying tribute to Benayoun's talents, he continues: "His statements made at this time of conflict and tension, even if uttered out of frustration and pain, do not, to say the least, help bring calm to the streets, and are inconsistent with the responsibility required of the President's Residence, and of all institutions with influence over the public discourse, to work to alleviate tensions, and promote cooperation rather than division in Israeli society."
On his Facebook page Benayoun claimed the song wasn't meant to incite violence against anyone. However he went on: "For all those who are shocked — I suggest that first of all, be shocked by and fear the terrorism raging through the country. Be shocked first of all by the Jews murdered with prayers stained by blood. By civilians being run over by these animals. By terrorists firing at residents of the south from schools and hospitals. There are a lot of things more shocking than a song that expresses hurt and fear and nothing more."
11 Israeli civilians have been killed by Palestinians in the last month, though Gaza has also again come under attack - as have parts of the West Bank and Palestinian villages.
A parliamentary vote which would formally make Israel "the Jewish state," was due to be voted on this Wednesday but has been postponed for a week following outrage from the country's Arab community, many Jews within the country and the international community.