Israel 'Terror' Attack: Videos Show Car Speeding into Jerusalem Train Station and Suspect's Arrest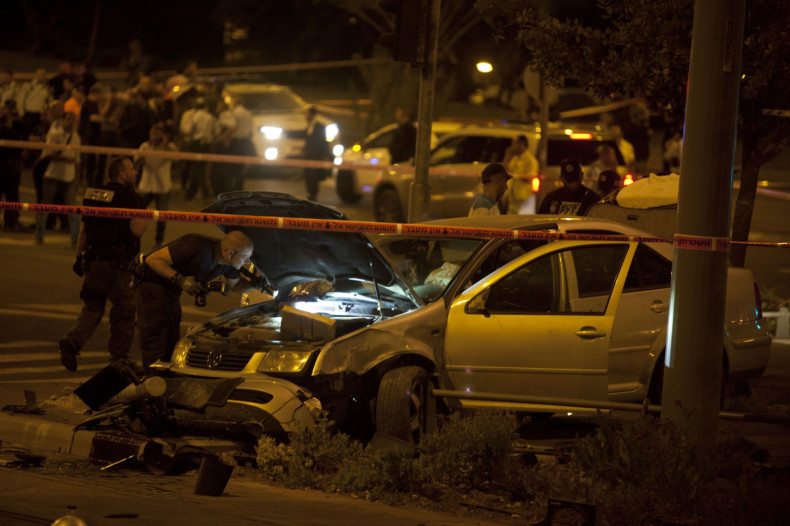 Several videos have emerged online showing a shocking attack on a Jerusalem train station unfolding.
A Palestinian man rammed his car into commuters waiting at the Ammunition Hill light rail train station, killing a three-month-old baby girl and injuring eight others.
The driver, identified as Abed Abdelrahman Shaludeh, a 21-year-old from Silwan, east Jerusalem, was shot by police as he attempted to flee and later died of his wounds at a local hospital.
In a first video uploaded on YouTube, a vehicle is seen diverting from the main road and speeding straight into the station.
Police spokesman Micky Rosenfeld said the footage indicated Shaludeh deliberately turned out of moving traffic to strike people waiting at the stop.
"We look at this incident as a terrorist attack," Rosenfeld said.
A second video posted online by Media Company 0404 shows the attack from a closer angle.
The car is seen entering the station platform, ploughing at high speed through several rows of passengers who had just stepped out of a train or were waiting for the next.
The baby killed in the attack, identified as Chaya Zissel Braun, was thrown 10 to 20 metres (30-65ft) into the air and crashed onto the floor on her head, her grandfather, Shimshon Halperin, said.
"She is a pure baby girl who hasn't done anything bad to anyone," Halperin told Channel 2 TV. "She was murdered for no reason."
Her parents, who were also injured in the attack, were US citizens, said Jerusalem Mayor Nir Barkat.
Police said that after the incident Shaludeh abandoned the vehicle and attempted to run away. He was subsequently shot by security forces.
In a third video caught by a passer-by he can be seen lying on the floor as a plain-clothed officer points a gun at him.
Police said Shaludeh had served time in an Israeli prison for terrorism-related crimes and had ties to the Islamist group Hamas.
He was the nephew of senior Hamas bombmaker, Muhi al-Din Sharif, who was killed in mysterious circumstances in the West Bank in 1998.
Silwan, the eastern Jerusalem district where the attacker lived, has experienced growing tensions in recent weeks since Jewish nationalists moved into homes in Arab areas. Palestinians are demanding East Jerusalem be the capital of their future state.