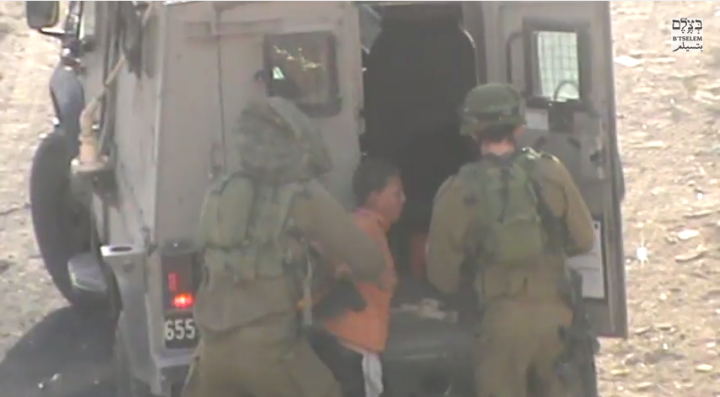 Footage has emerged of Israeli soldiers blindfolding, binding the hands of and detaining a mentally-disabled child on suspicion of throwing stones in the city of Hebron in the occupied West Bank.
The video, filmed by Palestinian videographer Samih Da'na, has been released by the Israeli rights group B'Tselem who document human rights violations in the occupied Palestinian Territories.
B'Tselem issued a statement that said in the video "soldiers are seen holding the boy, handcuffing him, blindfolding him and closing him in the jeep, despite cries by Palestinian residents that the boy is mentally disabled".
"The footage also shows settlers from Kiryat Arba, watching the incident from behind the settlement's fence," it said. "Some are seen calling out encouragement to the soldiers, including several racist remarks."
"The boy, A. a-Rajbi (full name withheld in interest of privacy), who will be 12 in a month, was detained after Palestinian children threw stones at soldiers on the main road of the Jabel Johar neighborhood in Hebron, close to the settlement of Kiryat Arba," the statement continues.
The rights group added that the boy was "held on the floor of an army jeep for some 15 minutes" until his father arrived and managed to convince the soldiers that his son is mentally-impaired and cannot speak.
The incident took place in the Jebel Juhar neighbourhood in Hebron near the settlement of Kiryat Arba, defined as illegal under international law.
In response to the incident, an Israeli army spokesman said, "A preliminary inquiry indicates that during the incident, army troops were urgently summoned to capture two stone-throwers in the city of Hebron. The two were captured as they threw stones at the nearby community.
"The first, an adolescent who had been given a suspended sentence [on a past criminal charge], was imprisoned after he was captured. The second [A., the young, mentally disabled boy], who is seen in the video clip, was released several minutes after his capture. The details of the incident are being investigated."
B'Tselem have documented previous cases in the West Bank where Israeli forces have detained minors for throwing stones.
In 2013, a five-year-old boy, Wadia Maswadeh, was held after being accused of throwing a stone at a military vehicle. Video footage showed the child crying hysterically as he is led away by Israeli forces. He was held for 30 minutes before being released at the Hashoter checkpoint in Hebron.