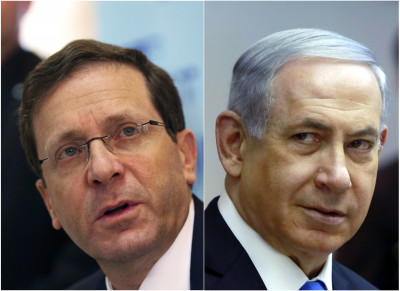 Israelis are voting in what are expected to be close parliamentary elections that see the leadership of incumbent Prime Minister Benjamin Netanyahu challenged by a centre-left alliance.
Netanyahu's Likud party is trailing the Zionist Union coalition, jointly spearheaded by Labour leader Yitzhak Herzog and former justice minister Tzipi Livni, according to opinion polls published ahead of the vote.
Due to the proportional representation system of Israeli politics, however, it is virtually impossible that one of the two parties will win enough votes to form a government on its own, with Likud expected to secure around 21 of the Parliament or Knesset's 120 seats and the Zionist Union 24.
Herzog and Netanyahu will thus have to secure the support of other parties to reach the 61-seat threshold needed to hold a majority and become prime minister.
As Israel's more than 5.8 million eligible voters are casting their ballots across the country, IBTimes UK has a look at the possible outcomes of the vote.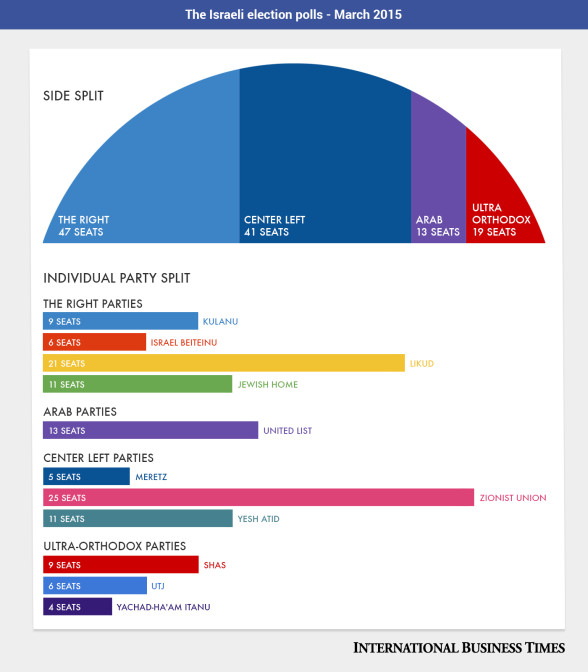 Herzog-led coalition
Over the last few days, momentum seemed to be growing towards a government led by the Zionist Union with the support of most non-right wing parties with the notable exception of the joint list of Arab Israeli parties, the United List, according to Daniel Levy, the head of the Middle East and North Africa programme at European Council on Foreign Relations.
Such a government would include the Zionist Union, Yair Lapid's centrist Yesh Atid party, the soft right of Moshe Kahlon's Kulanu party as well as the secular Meretz and at least one between the ultra-Orthodox Shas and UTJ parties.
A notable amount of negotiation would however be required to bring together these diverse groups – particularly the anti-clerical Yesh Atid and the ultra-Orthodox. Herzog's soft-spoken campaign could prove to be an asset in securing a satisfactory deal for all the participants.
"The truth is that Herzog hasn't campaigned very strongly on anything," Levy said. "If Herzog forms the government it will be because Netanyahu lost these elections. Herzog would have made himself just acceptable enough."
"He became the non-Netanyahu candidate and in this election it might be all that matters," he added.
Netanyahu-led rightist government
Herzog's potential difficulties putting a coalition together could eventually result in Netanyahu snatching another mandate despite Likud coming second in the elections, according to Yoav Peled, professor of political science at Tel Aviv University.
The PM could form a government with his traditional right wing allies, Naftali Bennett's Jewish Home and Avigdor Lieberman's Yisrael Beiteinu, if he is also able to lure back Kahlon, a former Likud minister who defected two years ago, and the ultra-Orthodox parties.
"Their [the ultra-orthodox parties] natural ally is Likud. They are all right wingers," Peled said. "They would have gone with the other side if it had the 60 [seats] to block a Likud government. But since it does not have them, they will go with Netanyahu."
Grand coalition
The Zionist Union and Likud could also decide to enter government together. The prime ministership would then be between Netanyahu and Herzog or they could strike a rotation deal similar to that which saw Shimon Peres and Yitzhak Shamir sharing the helm of the country in 1984.
A large national unity government would most likely also draw in centrist and ultra-Orthodox parties.
Such a deal could prove hard for Herzog and Netanyahu to sell to their own electorates after a polarising campaign, particularly in the light of the PM's last minute attempt to poach votes from the far-right by attending a settlers' rally.
"If there is an option not to do this [national unity deal] than it will be very hard for Herzog to agree to it and it will be very hard for Netanyahu too, as he has campaigned explicitly against it," Levy said.
However the way could be eased by the lack of real policy differences between the various parties, Peled said.
"There isn't really that much of disagreement about anything," he said. "On the Palestinian issue nobody talks about peace or two states or anything like that anymore and economically everyone is some sort of version of new liberalism.
"These elections ... are not about any important issue, no matter who wins, the policy in every major issue area will continue to be the same."
Other options
Other, less likely, scenarios include the centrist parties teaming up to lead a coalition and Herzog forming a minority government with the external support of the Arab list.
However, the latter option in particular is politically very difficult to be viable. Palestinian Israeli parties have historically not been considered coalition partners by any other group and have previously supported from the opposition only the government of Yitzhak Rabin, who was then murdered by an Israeli ultranationalist in 1995.
Traditionally, it can take weeks of negotiations before a new government is announced.
For all the updates follow IBTimes UK Israeli elections live blog.