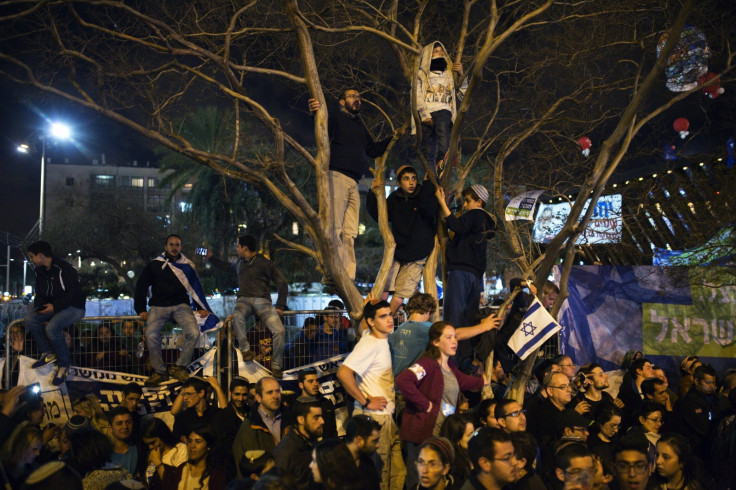 Israel's right has mobilised thousands of supporters in Tel Aviv just a few days before the elections on 17 March, as pollsters predict gains from opposition parties.
About 15,000 supporters of Benjamin Netanyahu's Likud party and its allies gathered in Rabin Square on 15 March, led by the prime minister himself.
Netanyahu told the crowd: "There is a real risk that the left [might] come to power, even though we know that it is me that the public wants to continue to lead this country.
He said: "The reality is that we do not have a block of 61 mandates, [so] we must intensify our efforts and we will get there."
The rally was a last-ditch attempt by the right to galvanise its troops, 24 hours before the end of the electoral campaign.
Although the campaign began comfortably for Netanyahu, his poll rating has taken a sharp dip amid calls for change.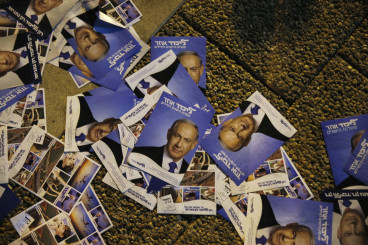 On 7 March, more than 35,000 Israelis gathered in Rabin Square to call for Netanyahu's ousting. Dubbed "Israel Wants Change", the demonstration hosted speakers such as former Mossad chief Meir Dagan.
Netanyahu called the early elections after firing two key ministers in his coalition, Finance Minister Yair Lapid and Justice Minister Tzipi Livni. The double sacking drove the collapse of his coalition government in December 2014.
Netanyahu's government has been heading the country for the past six years. He will need to build a fresh coalition comprising at least 61 of the Knesset's 120 deputies to hold on to power.
Opposition edges forward
Opposition leader Isaac Herzog has hammered Netanyahu over his failure to advance peace negotiations with the Palestinians and his alienation of US President Barack Obama.
A day before Israel goes to the polls, it appears to have paid off, as a poll conducted a week before the elections by Israel's Channel 2 shows Herzog's centre-left Israeli Labour party is ahead of Netanyahu's Likud by three or four seats. According to the poll, the opposition Zionist Union will gain 25 seats to Likud's 21.