Benjamin Netanyahu has backtracked on his historic 2009 Bar-Ilan University speech saying that as long as he is Israeli prime minister, a Palestinian state will not exist.
As part of a last-minute attempt to poach votes from right-wing electors, Netanyahu rejected earlier vows of support for a two-state solution to the Israel-Palestine conflict.
"I think anyone who is going to establish a Palestinian state and to evacuate territory, is giving radical Islam a staging ground against the State of Israel," he told NRG website. Asked whether under his watch "there will be no Palestinian state", the Likud leader replied "Indeed".
"This is the reality that was created here over the past few years. Whoever ignores it is burying their heads in the sand. The left is doing this, burying its head in the sand time after time," he added.
In 2009, during a speech at Bar-Ilan University, Netanyahu voiced support for a "demilitarised Palestinian state side by side with the Jewish state".
"Netanyahu was elected in 1996 saying he was going to kill the Oslo peace process and somehow he did it," Xavier Abu Eid, a spokesman for the Palestine Liberation Organization (PLO), told IBTimes UK.
"We knew he doesn't want a Palestinian state. The two-state solution was not part of his political programme or of the Israeli government. But the settlement expansion was [part of the agenda]. We've been saying that for years."
Abu Eid called Bar-Ilan university speech "a PR stunt" and said Netanyahu "has been doing everything possible to kill the two-state solution".
Har Homa speech
Likud's erosion in votes ahead of tight elections tomorrow (17 March) in favour of the centre-left Zionist Union of Isaac Herzog and Tzipi Livni has plunged the conservative party into chaos, with Netanyahu releasing scores of interviews in an attempt to win over the Israeli right-wing.
The prime minister visited the Jerusalem neighbourhood of Har Homa during a campaign stop one day before the general election. He showed on a map the roughly 4,000 apartments built and 2,000 more planned or under construction since building was approved there.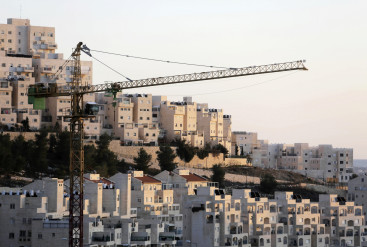 "It was a way of stopping Bethlehem from moving toward Jerusalem," Netanyahu said. "This neighbourhood, exactly because it stops the continuation of the Palestinians. I saw the potential was really great."
It is the first time that Netanyahu has openly admitted to building settlements to disrupt a potential Palestinian state between Bethlehem and Jerusalem, which the Palestinians see as their future capital.
Har Homa, which was the stage of huge Palestinian protests in the 1990s for its strategic location between Bethlehem and occupied East Jerusalem, is home to 25,000 people today. It was annexed into Jerusalem after the 1967 war.
The Palestinian Authority tried to get a condemnation from the UN security council after Netanyahu approved building in the area in 1997. But the United States, a long-standing ally of Israel, vetoed the resolution.
"Twenty years later we have this huge settlement and Netanyahu is telling everyone – including those who called for a veto at the security council – that he did not build the settlements for electoral reasons (like he said 20 years ago) but strategically to split Bethlehem from occupied East Jerusalem," the PLO spokesman said.
"It's very sad that Israeli politicians have to campaign on who's going to annex more land in order to win the elections," Abu Eid continued. "It's very sad that they're going to campaign on who's going to violate international law the most to win an election."
"This is not something new for us, we've been saying that forever," he said, referring to Har Homa.