Israeli Rabbi Threatens to Unleash Suicide Squads of Ultra-Orthodox Jews to Defeat Army Draft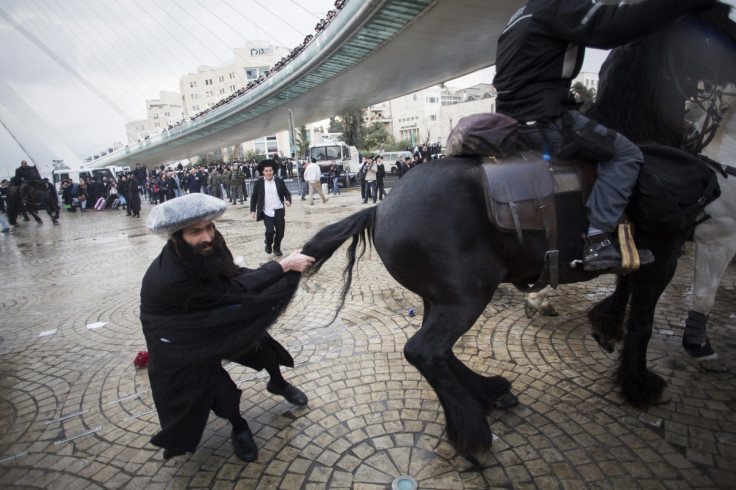 A rabbi leading protests in Israel against compulsory military service has threatened to wage war against the state with suicide squads.
Thousands of ultra-Orthodox Jews rallied across Israel to demand the release of a young haredi student arrested for dodging the draft at the Israeli Defence Forces.
Addressing a crowd in Jerusalem, where some 400 Jewish protesters clashed with police, Rabbi David Zicherman urged the ultra-Orthodox sect to start a civil disobedience movement and stop paying taxes.
"You are pushing us into a corner," he said of the government. "We will start a war with the State of Israel, and it will burn like wildfire. We, Holocaust survivors, are now encountering a spiritual Holocaust."
"They will fail in their attempt to lead us to annihilation," he warned. "We shall not compromise nor negotiate."
The rabbi also said Israeli authorities would face "suicide squads who will give their lives for the Torah [the first part of the Jewish bible]", according to reports in the Jewish Press.
Following the clashes, authorities charged 13 demonstrators with rioting, interfering with law enforcement agents, and demonstrating without a permit, Israel Radio reported.
Israeli men and women are usually enlisted into the army at the age of 18 – except for ultra-Orthodox Israeli men, who are mostly exempt from the army.
However, in July 2012 the Tal Law, which exempted ultra-Orthodox men from the national service, was declared unconstitutional.
The exemption was regarded with resentment by Israel's secular majority.
Members of the Knesset were forced to draft a new legislation that would conscript ultra-Orthodox into the army.
The new system which will gradually reduce the number of exemptions is awaiting parliamentary approval.
© Copyright IBTimes 2023. All rights reserved.