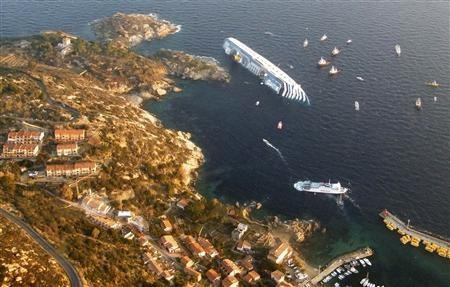 The captain of the tragic luxury cruiser, Costa Concordia, has been arrested by the Italian police on charges of multiple manslaughter, causing a shipwreck and abandoning the vessel, it has been reported.
Francesco Schettino, the ship's captain, was arrested on Saturday night and is being questioned by the magistrates, Reuters has reported quoting the Italian police.
Schettino was accused of abandoning the ship before all the passengers were taken out safely, the police added. Costa Concordia was carrying 4229 passengers including the crew and was on a cruise trip on the west Meditteranian Sea.
According to local officials, about 70 people are injured and more than 40 people are still missing in the tragedy. Two French tourists and a Peruvian crewman were already confirmed dead.
According an Italian media report, fire fighters have rescued two people from the lower cabins after making voice contact from the upper floors of the ship on early Sunday. It was not clear whether there are any other passengers struck in the lower cabins of the ship or not.
Late on Friday night, the vessel hit a submerged rock which was not marked in any maritime charts of the area, as revealed by Schettino in a television interview, Reuters has reported.
"The captain performed a manoeuvre intended to protect both guests and crew but it was complicated by a sudden tilting of the ship," Reuters has quoted Costa Cruises president Gianni Ororato as saying.
But the sinking of the 290-metre long ship near the holiday island of Giglio, just 200 metres (650ft) away from the shore in calm waters, is puzzling the investigators. According to a Reuters report, the ship was involved in an accident when it hit a port wall and was damaged while docking on November 22, 2008.
On Friday night, the vessel was turned on its side, partially submerging the decks in water. A large cut was visible in its side, possibly the impact of it colliding with the submerged rock.
"The ship was on a cruise in the Mediterranean, leaving from Savona with planned stops in Civitavecchia, Palermo, Cagliari, Palma, Barcelona, and Marseille," Costa Crociera SpA, owner of the ship, said in a statement.
"There were around 1,000 Italian passengers on board, as well as 500 Germans and around 150 French people," it added.
Along with the worries of human casualties involved in the tragedy, there are concerns about a possible contamination of the pristine waters as the ship is fully loaded in fuel and it had just begun its journey.
Also read: Three People Confirmed Dead in Italy Cruise-Ship Tragedy: Coast Guard [PHOTOS]