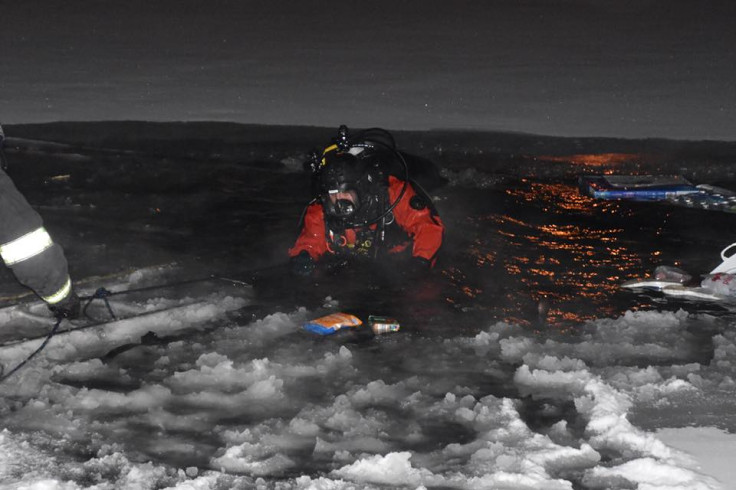 A desperate woman who called police from her car as she sunk into a freezing pond on New Year's Eve pleaded: "It's filling up. It's cold."
Minutes later Indianapolis fire department divers hauled the woman – who has not been named – through the sun roof of her car, which was 12 feet underwater and some 20 feet from the shore.
The woman is fighting for her life, in a critical condition in Eskenazi Hospital, in the centre of the Midwestern city, according to a rescue spokesman.
Fire department officials said they received a number of calls that a car had plunged through the ice into a pond beside an apartment block in the south of the city.
One of those 911 calls was from the woman actually inside the vehicle. A dispatcher tried to guide her toward an exit, but the driver could not get out of the motor.
Less than two minutes after making her call the woman's phone went dead.
The fire department said their divers were in the water by 8.43pm, and they were back on shore with the woman four minutes later after breaking the window on the sun roof with a cutting tool.
Indianapolis fire department battalion chief Rita Reith told broadcaster Fox 59: "It's unclear as to how or why she was on the ice, but she came from a parking lot area, got onto the pond somehow and drove before, either she realised she was on the pond, or she was driving and the pond just broke through, we'll never really know until we can talk to her."
Rescue officers said the temperature on the night hovered near 0 centigrade, which meant divers were unable to get the woman's car out of the pond as their gear froze in the icy conditions.
Reith added: "It's cold weather, cold water, we're all hoping for the best. She still remains in critical condition and the divers just did a heck of a job, everybody here worked really hard to get this woman out of the water."