Rapper Ja Rule, and co-founder entrepreneur Billy McFarland has apologised for the disastrous reality of Fyre Festival as the pair denied accusations of defrauding customers.
Pitched as an upscale experience on a Exuma island in the Bahamas, filled with alcohol, toned bodies and an excess of luxury in every sense — backed by celebrity endorsers including Kendall Jenner – guests, who paid $1,000 (£772) to $12,000 for tickets, and up to $250,000 for yacht packages, were met with an experience more akin to Lord of Flies or the Hunger Games.
Social media soon filled on Friday (28 April) with reports that the villas promised, in fact, turned out to be repurposed relief tents, with no alcohol available, nor proper staff or built facilities. Headliners Blink-182 also soon dropped out.
In a post on Twitter, a "heartbroken" Ja Rule stated his "immediate concern" was to get festival-goers home safely, adding the "amazing event" was "NOT A SCAM as everyone is reporting".
"I don't know how everything went so left but I'm working to make it right,,, by making sure everyone is refunded," he continued.
The 41-year-old, famed for a number of 2000s hit singles, including Always On Time, featuring Ashanti, concluded in somewhat contradictory tones, saying: "I truly apologise as this is NOT MY FAULT… but I'm taking responsibility".
His comments were swiftly followed by a lengthy defence by fellow festival organiser, Billy McFarland.
In an article published by Rolling Stone, McFarland, the chief executive of tech-driven start-ups Spling and Magnises, admitted he had been a "little naive", but blamed the debacle on adverse weather conditions.
"The morning of the festival, a bad storm came in and took down half of our tents and busted water pipes. Guests started to arrive and the most basic function we take for granted in the US, we realised, 'Wow, we can't do this'.
"We were on a rush job to fix everything and guests were arriving and that caused check-in to be delayed. We were overwhelmed and just didn't have the foresight to solve all these problems," McFarland, 25, said.
Full refunds are set to be offered to guests, who struggled to leave the festival site, let alone fly off the island, while 2018 "make-up" events, which also be run and made free to Fyre ticket-holders.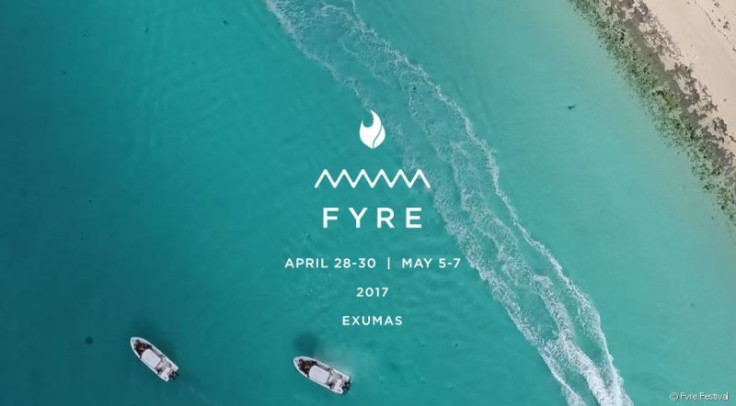 "We will donate $1.50 [per ticket] to the Bahamian Red Cross. It'll keep the theme of being on water and beach. It'll be not just music, but all forms of entertainment. The one change we will make is we will not try to do it ourselves. We will make sure there is infrastructure in place to support us," promised McFarland.