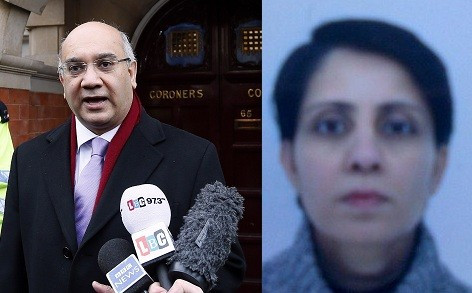 One of the three suicide notes left by Jacintha Saldanha criticised staff members at the King Edward VII Hospital, where she worked when she received the hoax phone call from the Australian DJs.
Labour MP Keith Vaz, who is acting as a spokesman for Saldanha's husband Ben Barboza and two children, said the hospital must provide them with the "full facts" of what happened after the call.
The hospital had said that no disciplinary action had been taken with regards to the incident. A spokeswoman said both nurses involved were offered full support and made it clear "they were victims of a cruel journalistic trick".
But, according to the Mirror, a source said: "One of the letters, which is the longest, deals with the hospital and is critical in its tone. Needless to say, Ben wants a full inquiry into what happened, and he wants to make sure the truth comes out.
"Within the letter Jacintha calls into question some of the treatment she received at the hospital."
Family grieving at home
Another note left dealt with the hoax call made by the 2DayFM DJ's Mel Greig and Michael Christian; Saldanha had put the call through to another staff member, who gave details of the Duchess of Cambridge's health. The final note includes requests for her funeral.
Yesterday, Westminster Coroner's Court confirmed that Saldanha had died from hanging. It also said she had suffered injuries to her wrists.
The emails and phone calls made by Saldanha in the days following the prank call are now being investigated by police.
Saldanha, 46, was supposed to have returned home for the weekend on 7 December - the day she died. Her family were apparently unaware of her role in the hoax call.
Barboza, daughter Lisha, 14 and son Junal, 17, did not attend the hearing. Vaz said: "They are grieving in their homes, they are comforting each other and the community is comforting them, that is why they have not come."
The inquest has now been adjourned until 26 March.
The Samaritans say that people feeling distressed who feel the need to talk to somebody should call them on 08457 90 90 90 or email jo@samaritans.org