Handcuffs, whistle and truncheon connected to the notorious Jack the Ripper serial murder case are expected to reach a record price at auction.
The shackles belonged to a Victorian policeman who found the killer's fourth victim Catherine Eddowes several minutes after he killed her in 1888.
Other items are also going under the hammer for the first time, including PC Edward Watkins' truncheon, whistle and cover from his notebook.
The unnamed seller's grandfather, who had them for more than three generations, bought the items from the policeman's family.
Auctioneer Jonathan Humbert believes that the lots will sell for up to £800 each.
"It is chilling to think these very items may have physically been only yards from Jack the Ripper and played such an integral role in one of the most fascinating unresolved crimes of all time," he told the BBC.
"Ripper items are rarer than rare by their very nature and I have no doubt these will really capture the public imagination around the world."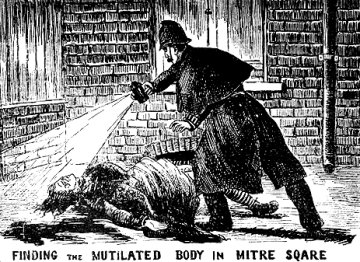 The London copper is believed to have just missed catching the mysterious Victorian mass murderer in Whitechapel, London.
PC Watkins was patrolling his beat on 29 September when he came across the mutilated corpse of Catherine Eddowes in Mitre Square.
He walked his beat from 10pm until he discovered Eddowes' body at 1.44am. He had passed through the same area just 14 minutes earlier.
Elizabeth Stride, another prostitute was killed a few hours earlier.
Dr Frederick Gordon Brown, a London police surgeon arrived at Mitre Square around 2am.
A summary of his report read: "The body was on its back, the head turned to left shoulder. The arms by the side of the body as if they had fallen there. Both palms upwards, the fingers slightly bent. The left leg extended in a line with the body. The abdomen was exposed. Right leg bent at the thigh and knee. The throat cut across.
"The intestines were drawn out to a large extent and placed over the right shoulder – they were smeared over with some feculent matter. A piece of about two feet was quite detached from the body and placed between the body and the left arm, apparently by design. The lobe and auricle of the right ear were cut obliquely through."
The Ripper, who killed at least five times more, was never apprehended and a multi-million pound industry has built up around theories of who he was. Suspects have included Prince Albert Victor, the grandson of Queen Victoria, Sir William Gull, the Queen's doctor, and artist Walter Sickert.
The auction will take place in Towcester, Northants, on 10 December.