Arsenal midfielder Jack Wilshere continues to suffer pain in the same ankle which forced him to miss the entire 2011/12 season.
The England international spent 16 months out with a stress fracture, not returning until last October.
Wilshere has endured an injury plagued last four weeks also, returning from injury to his left ankle against Norwich City. He was then left out for Arsenal's win at Fulham as a precaution, with Arsene Wenger hesitant over playing the 21 year old in three successive games.
And team-mate Alex Oxlade-Chamberlain says Wilshere continues to be hampered by pain in his right ankle, the source of the injury which saw him miss over a year of action.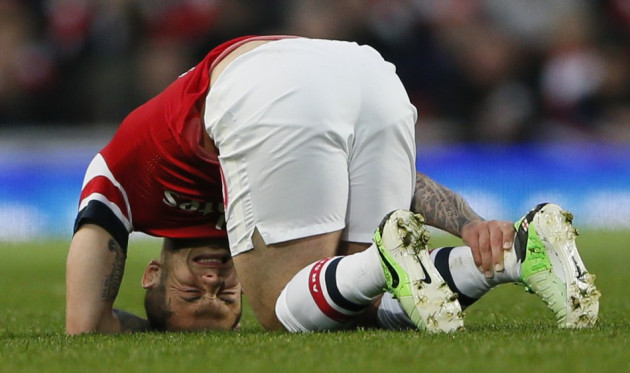 "The news is that it is not too bad," Oxlade-Chamberlain said. "He's just getting a bit of pain in his ankle from a few screws.
"If you can bounce back from what he did, you can bounce back from anything."
Despite making just 29 appearances this season for Arsenal, Wilshere is among the nominees for the Professional Footballers' Association Young Player of the Year award.
His performances for his club coupled with a stunning showing for England against Brazil in February suggests the lengthy lay off has done little to stifle Wilshere's development.
But Wenger remains cautious, and despite Wilshere being available for the visit of newly crowned champions Manchester United this weekend - the next step in Arsenal's attempts to qualify for next season's Champions League - the Frenchman will continue to manage the youngster's workload.
"He was in a bit of pain after the Everton game and I just felt to give him three games in six days would be too much," Wenger said. "Now he has a break until next Sunday, so he will be available (against United).
"There is no basic ankle problem. I just do not want to go into a vicious circle again when I play him, I play him, I play him and then suddenly (he has a problem). I think coming back after six weeks out, two games in a week was enough.
"I don't want the game in England to lose the commitment and combative side, but Jack has a game that is based on dribbling so he is more exposed to kicks than players who are just passing players. You don't want him to lose that because that is his strength."