Jack Wilshere says Arsenal can not be content with Champions League qualification and should instead harbour hopes of contesting for the Premier League title.
Victory over Norwich City saw The Gunners leapfrog both Chelsea and Tottenham Hotspur into third in the table prior to facing fellow European hopefuls Everton on Tuesday.
But the north Londoners, amid exits in the FA Cup to Blackburn Rovers, the League Cup to Bradford City and the Champions League to Bayern Munich, trail league leaders Manchester United by 21 points and have altogether suffered a difficult campaign following the summer sales of Robin van Persie and Alex Song.
Four successive league wins is helping Arsenal to finish the season in style but Wilshere doesn't want a potential top four finish to work as the pinnacle for Arsenal.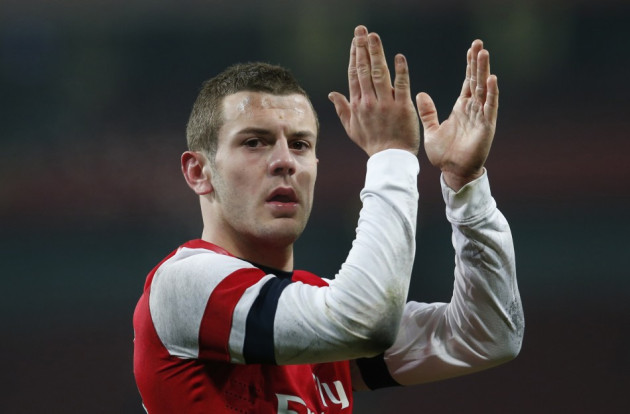 "It's great, especially considering the position we were in before," he said. "We've shown a lot of character. But while it's good to look at now, we want to be better than that. We don't want to be happy with third in the league.
"We've got great players and want to be challenging for first and second. We're happy with third when you look at this season but really we want to be higher. We want to be challenging for everything every year, we don't want just to be saying that we got into the Champions League.
"We want to be winning trophies and having that experience as a team. There's nothing better than winning, especially when you've been around a team that's been working hard to win something for so long. To be rewarded at the end of it would be great."
Everton travel to The Emirates Stadium in hope of taking a huge step towards the top four themselves in what could be David Moyes' final season as Toffees boss.
A win for Arsenal is likely to all but extinguish Everton's chances of qualifying for the Champions League, with games in hand for both Chelsea and Tottenham and Wilshere says the clash represents the first game of a tough run-in.
"We need to win, we know that, and we'll do whatever it takes to achieve it," added Wilshere. "This is big, a really important game, and if we win then we're in a good position.
"But even then we're definitely not over the line, we've got some tough games coming up: Fulham away will be tough, and then Manchester United, and we obviously don't want them winning the league at Emirates stadium, so we'll be up for that."
Wilshere made his return from 16 months out with an ankle injury last October before a further ankle problem saw him miss a month of the season prior to his comeback for Arsenal against Norwich.
The 21 year old was forced to miss a series of league games, as well as the return leg of the Champions League last 16 tie with Bayern and England's World Cup qualifying double header as his season hit the buffers.
"Personally, it's good to be back," he added. "[The latest injury] was frustrating because I was flying just before I got injured in March. I felt good, confident, and then picked up another injury.
"Things then drag a little and you lose your sharpness. But this time it wasn't anything like as long as the one before, so hopefully this time I can get it back more quickly.
"I needed that game on Saturday - you always need your first one out of the way. I wasn't great, I know it myself, I'm better than that, but you need just to get that first game in so that your sharpness and understanding come back."