Jack Wilshere will miss Arsenal's Champions League last-16 second leg clash with Bayern Munich and England's World Cup qualifying double header against San Marino and Montenegro after being ruled out for three weeks with an ankle injury.
Wilshere featured in the north London derby on 3 March but isn't expected to play again this month, missing four scheduled games in all, including the Premier League trip to Swansea City and a possible Champions League quarter final first leg.
The England midfielder spent 17 months out with an injury to his left ankle before returning to action last October, and Arsenal boss Arsene Wenger says Wilshere has been withdrawn as a precaution to prevent a similarly lengthy spell on the side-lines.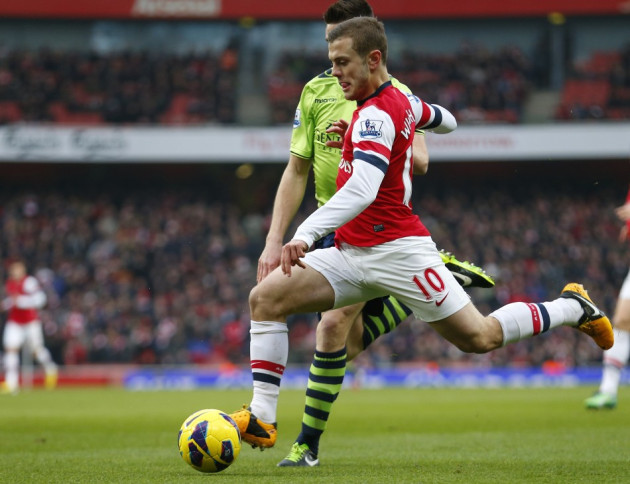 "Jack Wilshere is out," Wenger said. "He has an inflamed ankle, the other ankle to one he injured. He will be out for three weeks and will not be available for Munich, Swansea and not for England.
"Hopefully for the Premier League he will miss only one game. After that is an international break. We can slowly prepare him.
"I could see in the last couple of games he had started to dig deep. He has played 28 games. For us it is not welcome but maybe for him it is not bad that he has a little breather.
"It is more about prevention. The specialist decided he needed it. He has some bone bruising. The last time it deteriorated into a stress fracture. That's what we don't want to happen.
"We trust people who are specialists in this area. He was out for 17 months and we had to deal with it, we must be able to deal with it for two or three games."
The 21 year old's absence comes as a big blow to Arsenal's hopes of reaching an unlikely European quarter-final, with The Gunners trailing Bayern 3-1 from the first leg, after goals from Toni Kroos, Thomas Muller and Mario Mandzukic.
Just two sides in the history of the Champions League have gone through having lost the first home leg of the tie, and without Wilshere's Arsenal may be forced into damage limitation in Munich.