Arsenal midfielder Jack Wilshere is expected to return for the Premier League visit of Norwich City after making slow progress in his recovery from an ankle injury.
Wilshere missed the trip to Bayern Munich and Swansea City as well as England's World Cup qualifying double-header against San Marino and Montenegro after suffering a problem with his left ankle, akin to the injury which saw him absent for 16 months prior to his return last October.
The 21 year old was predicted to return for the game against Reading this weekend but with manager Arsene Wenger cautious over Wilshere spending another lengthy spell on the side-lines, his Arsenal comeback has been delayed.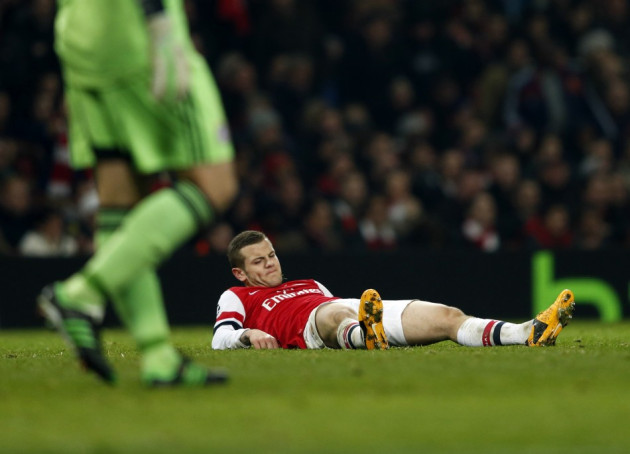 "Honestly, is very difficult to say [when he will be back] - maybe in two weeks," Wenger said. "It is an inflammation of his bone, and we have such history with him so we are a bit more cautious.
"We have deferred his rehab by one week. We gave him one more week rest because it was wise medically to do it.
"We will rest him when it is needed. He knows he has to take care of his future. He is a very young player, he accepts it."
"He doesn't need any special treatment," he said. "You just have to be cautious with the inflammations of his ankle at times. He has been out for 17 months, so he wants to play. I understand that.
"If he is selected [to play for England this summer], he will go. It depends what kind of shape he will be in. If he has no problems, why not?"
Wilshere's absence is a blow to Arsenal's Champions League qualification hopes, which have built up ahead of steam prior to the visit of Reading, with the gap cut to four points following Tottenham Hotspur's successive defeats to Liverpool and Fulham.
The assault on the top four, which followed a potentially disastrous 2-1 defeat to Tottenham in the north London derby, was sparked into life by victory over Bayern Munich, which while it couldn't prevent Arsenal exiting the Champions League, did instil new life into the side according to Wenger.
"We've got nine games to go - five at home and four away," Wenger added. The form we showed against Bayern was very good. We have a chance to finish in the top four.
"We have the experience of a few years and a special desire to do it together. It's a good opportunity for us. We want to grab this chance. If we are consistent we will do it. We're not focused on Tottenham, but the way we want to play."