Arsenal midfielder Jack Wilshere will not miss the rest of the season, despite suggestions the England international had suffered a setback in his recovery from an ankle injury.
Wilshere will miss the next three weeks with an ankle problem akin to the one which forced him out for 17 months prior to his return in October.
Arsene Wenger confirmed his absence from the first-team was a precaution following Wilshere's previous injury issues, but subsequent reports claimed the 21 year old would be out for a further six weeks, with Arsenal privately admitting he wouldn't play again this season.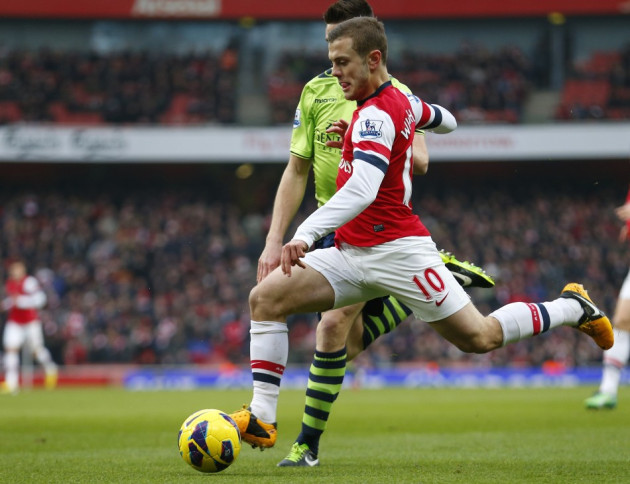 But an Arsenal spokesman said: "Nothing has changed in Jacks' recovery, there's no setback or further damage to his ankle and no concern about any long-term problems.
"Jack was told to rest and we are still on course for him to resume training and be available for selection for the home game against Reading."
The latest ankle problems forced Wilshere out of the Champions league win over Bayern Munich and the victory at Swansea City, while England will be without the midfielder for the World Cup qualifiers against San Marino and Montengero.
But Wilshere will return in time to assist with the remainder of Arsenal's season as they attempt to bridge the gap to Tottenham Hotspur and Chelsea in the Premier League top four and qualify for the Champions League.
The Gunners cut the gap to Spurs to four points with nine games left in the win over Swansea, and Wenger says Arsenal showed a great desire to continue their European dream.
"The attitude of our players and our team was outstanding," he said.
"Even when the legs were a bit less fresh, we kept going and refused to drop points. We knew before the game what was expected, and we gave absolutely everything until the end.
"What we did in the last three days is always difficult to do for any team. To win away in the Champions League and win straight away three days later in the Premier League is very difficult. I would like to congratulate the players for that.
"We couldn't drop points today to have a chance [of qualifying for the Champions League] - we are in that situation. We have shown as well that we are up for a fight and we will do that until the end of the season."