Arsenal midfielder Jack Wilshere will return to the club's first team squad for the Premier League trip to Norwich City but may have to wait another three weeks for a competitive appearance.
The England international hasn't featured for The Gunners for 14 months, but has featured in warm-up games against West Bromwich Albion, Reading and Chelsea in recent weeks as he continues his rehabilitation from an ankle problem.
Such is the impressive nature of Wilshere's renewed fitness; the 20 year old has travelled as part of the first-team squad for the league game against Norwich, and while he is unlikely to feature he could make his first appearance for Arsenal since last June in the League Cup tie against Reading.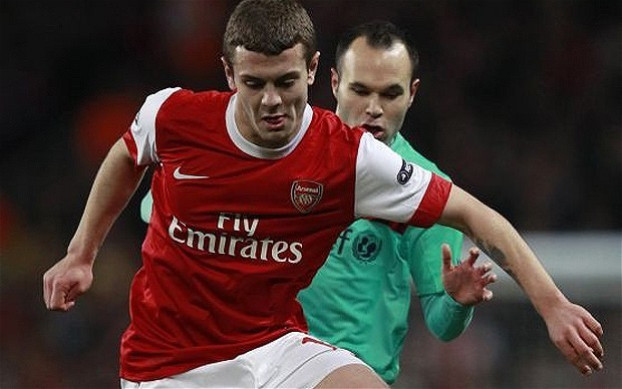 "It's been two 'good news' days in a row. Jack travels to Norwich in the first team squad! Delighted," Wilshere's agent Simon Bayliff said on Twitter.
"There are two aspects [to the recovery]," Arsenal manager Arsene Wenger said. "One is the apprehension to go into challenges when you have too many injuries. On that front we are at 100 per cent. We even have to calm him down. He goes for every challenge and has no apprehension.
"Then you have the physical front - he is OK there. Then you have the match fitness - that is 80 per cent. He needs one more game, maybe Monday night with the reserves [against Everton], I don't know. Then he should be back."
England Under-21 coach Stuart Pearce has revealed that he would like to include Wilshere in his squad for next summer's European Championship, should his return prove successful.
Wilshere has made five full appearances for his country as he stormed into the Arsenal first team during the 2010/11 campaign, but Wenger will be wary about his return to the international arena, given how burnout in his breakthrough season at Arsenal contributed to his extended spell on the side-lines.
"Let's wait until Jack comes back. He has not played in the first team for 14 months," added Wenger. "Do you know what that is like, 14 months out of competition? He works very hard. He is doing well but let's not go too far.
"I never believe that a player, once he has gone up to the top team, plays well with the Under 21s," Wenger added. "It does not exist - I have not got one example.
"That's why I believe England has to make a decision - is Jack in the first team and not in the Under-21s?"