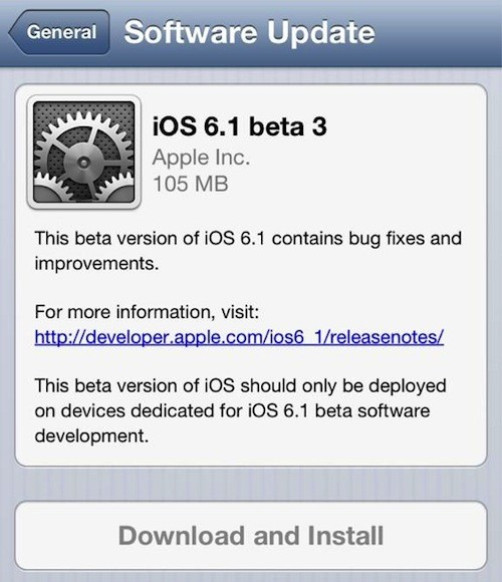 iOS 6.1 beta 3 has been rolled out by Apple within three weeks after the release of second beta version for iOS 6.1. Registered iOS developers can now try tethered jailbreak solution for iOS 6.1 beta 3 using the quintessential jailbreaking tool - Redsn0w 0.9.15b3, with due credit to iPhone Dev Team.
The tethered jailbreak for iOS 6.1 beta 3 will work only on A4 or earlier devices including iPhone 4, iPhone 3GS and iPod Touch 4G, as they are susceptible to the Limera1n exploit. Hence, owners of iPhone 5, iPhone 4S, iPad 2/3/4, iPod Touch 5G and iPad mini need to wait a bit longer for the release of a tethered or untethered solution for iOS 6/6.1 jailbreak.
As iDownloadBlog notes, the beta 3 version of iOS 6.1 update comes with minor bug-fixes and improvements, and does not port any major feature enhancements over its previous iteration (iOS 6.1 beta 2). Some key changes include new boarding pass behaviour in Apple's Passbook application, tweaks to Safari and some minor tweaks in Apple's mapping software.
The iOS 6.1 beta 3 software is now available for download to registered iOS developers from the iOS Dev Center, as well as an Over-The-Air (OTA) update for beta 2 users on their iPhone, iPad or iPod touch. For an OTA update, go to Settings > click General > Software Update > Install Now.
iOS 6.1 beta 3 and iOS 6.1 beta 2 will reportedly expire on Friday, 28 December 2012 at 12 a.m. (GMT), according to a recent iDownloadBlog report quoting popular iOS hacker and Sn0wbreeze creator - iH8sn0w. In other words, the next beta iteration is definitely around the corner.
How to Jailbreak iOS 6.1 Beta 3
Download and install iOS 6.1 Beta 3 from here (iOS developers only)
Download RedSn0w 0.9.15b3
Ensure that iOS 6 firmware file for your device on the computer is installed before you continue. Download the iOS 6 firmware file from here.
Connect your device to the computer and then launch Redsn0w 0.9.15b3.
Now, click Extras > Choose IPSW and point to the iOS 6 firmware file for your device on the computer. The firmware should be detected successfully.
Return to the Redsn0w main page and click Jailbreak. Allow the jailbreak to process and it will prompt you for options. Ensure that Install Cydia option is checked and click Next.
Place your device in DFU mode, and allow the jailbreak process to complete.
Now, click Back in Redsn0w window and click Select IPSW again. Point to the iOS 6.0 firmware, and then click Just boot.
Once again place your device in DFU mode, and the device enters tethered boot. A pineapple logo is now displayed on the screen, as the device boots.
When the device boots to the Lock screen, unlock the device, and swipe to the Home screen's second page. The Cydia app should now display on the page.
For further assistance check out the video tutorial below:
[Source: iDownloadBlog]