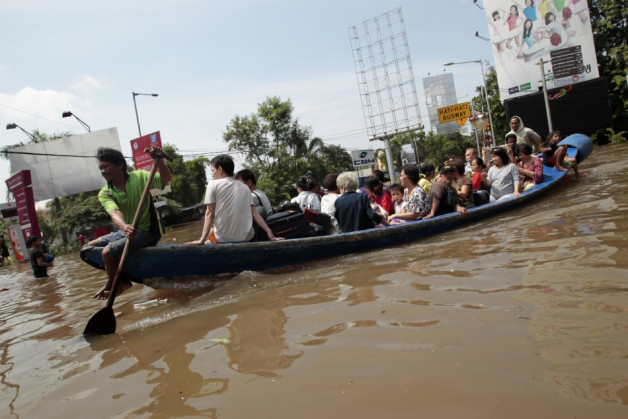 Indonesian soldiers and emergency crews are working to repair the damage caused by floods in the capital Jakarta. The death toll now stands at 15, and the city is bracing itself for further devastation from forecast rainfall.
A Jakarta police spokesman told the AFP news agency that three bodies were pulled out of the water on Friday 19 January, while a body trapped in a flooded car park since Thursday was recovered today.
A spokesman for the country's disaster management agency said that authorities were still calculating the number displaced by the floods, but that it stood at at least 20,000.
The flood alert was raised to its highest level on Thursday, but the waters have receded in many areas, including the capital's business district, after the rain stopped on Friday afternoon.
This allowed authorities to move in and repair damage to roads, railway lines and canals.
Soldiers worked through the night to repair a floodwall that had burst, sending water gushing through the city.
But as they started to remove silt and debris that had been washed into homes, experts warned of further floods next week with more heavy rain forecast.
Businesses in the capital's booming economy could have lost tens of millions as a result of the flood.
Sofyan Wanandi, chairman of the Indonesian Employers Association, told the Wall Street Journal: "Losses are mainly from workers not being able to get to offices and disruptions in the supply of raw materials."
The city's new governor Joko Widodo has pledged to make flood prevention a priority, but experts claim this would require a substantial overhaul of the city's infrastructure, as Jakarta's frequent floods are a result of packed buildings that leave little room for water to run off, a primitive sewage system and drains clogged with rubbish.
He has declared a state of emergency through to 27 January and promised state assistance for victims.
The floods are the worst to hit Jakarta since 2007, when 50 people died and more than 200,000 people were displaced.
Indonesia's rainy season runs from October to April, with the heaviest rains falling in January and February.