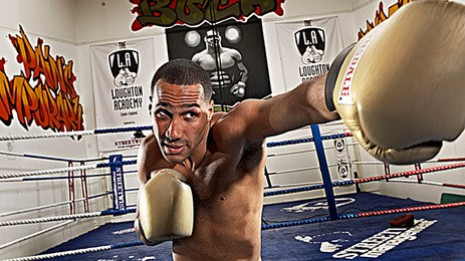 Watching Great Britain's amateur boxers grab the headlines this summer proved to be a bitter sweet experience for James DeGale. Four years ago the Londoner was winning gold in Beijing and dreaming of being a world champion by the time the Olympics landed in the capital.
As Anthony Joshua, Luke Campbell and Nicola Adams emulated DeGale by winning gold; the 26-year-old was reminded of just how far his star had faded. When he returned from China, as the only British boxing champion, he had promoters clambering to sign him to the professional ranks.
A dream start led to DeGale landing the British super-middleweight title in just his ninth fight and soon one of the biggest grudge matches in Britain was signed. A clash with his former amateur rival George Groves caught the attention of the public who hoped for a rivalry to match that of Chris Eubank and Nigel Benn.
A first professional loss in a closely fought contest suddenly brought DeGale crashing back down to earth. Despite winning the European title with an impressive victory over Piotr Wilczewski, the fighter from Harlesden was forced to endure a difficult twelve months of inactivity and legal wrangling with promoter Frank Warren.
"People think George Groves was my last fight. It's unbelievable," states DeGale, who last fought in April when successfully defending his European crown with a fourth round stoppage of Cristian Sanavia in Denmark.
"I've had two fights and two really good wins; managed to win my European title on a big show in Liverpool and went abroad and defended it against a former WBC champion. It's crazy."
This period of inactivity has led to DeGale's standing gradually slipping. Once the golden boy of Warren's stable, he found shows cancelled and his bitter rival Groves gaining the attention after he was signed to the same promotional company. Now comes the chance for a new beginning and a chance to silence his doubters.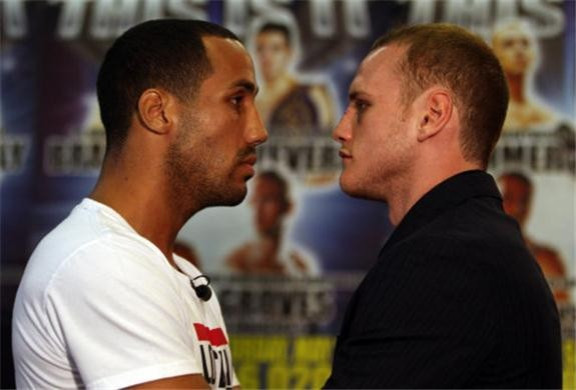 "It is a new chapter and a fresh start. It's exciting times. To sign with Mick Hennessey and fight on channel 5, I just couldn't have wished for more," admits a fighter who will top the bill on his return to the ring at Glow, Bluewater on October 13 against Hadiliah Mohoumadi of France.
Still in his mid-twenties, the media circus which surrounds the boxing game can make it a difficult for young fighters to stay grounded. DeGale has never had this problem due to the support of his family. At the media day to promote his upcoming fight, both parents proudly offer their support while chatting to various members of the media s and making it feel like a family gathering. James' sister even generously offers this journalist a lift to the nearby train station.
DeGale is at home in this environment and it is here that you see the real personality of the fighter. Often accused of being arrogant, this could not be further from the truth. Confidence may exude from every pour, but he is also honest and frank when discussing the last year which has seen him desperate to simply return to what he does best, box.
"I was pretty down and with all the madness outside the ring, my family were the people that have pushed me on and helped me stay on the right path. I owe a lot to my mum and dad, and Jim McDonnell [DeGale's trainer since turning professional], they have been fantastic. I am really very close to my family."
As we have witnessed with so many fighter a loss on the record is never truly forgotten. Ricky Hatton would give anything to avenge the losses to Floyd Mayweather and Manny Pacquiao, while Carl Froch is haunted by his defeats to Mikkel Kessler and Andre Ward. For Degale, it is Groves that will always be lurking somewhere is his subconscious.
For now he wants to concentrate on his immediate future, though once on the subject it seems clear a rematch will happen.
"I've moved on," states the fighter with 12 wins from his 13 contests. "Since the Groves loss it has done the world of good for me. I have learnt about myself; the public and the press. I have grown up and I realised I don't need George Groves as much as he needs me. I'm just focused and I'm sure that fight will definitely come around in a few years when one of us has a world title. There will be plenty of public demand for it as it [the rivalry] is genuine, it's not made up."
With the enmity put aside for the time being, DeGale must now focus on boosting his world ranking and simply getting back in the public eye. This will be helped by regularly appearing on bills on Channel 5. The last two shows have generated an audience of more than two million and the advantage of being on terrestrial television is that even casual boxing fans have easy access to fighters.
DeGale is fully aware that he must stay active. The problem is that the super-middleweight division is possibly the most competitive in boxing. There is a wealth of world class fighters, and a depth to the division which makes it difficult to earn a title opportunity.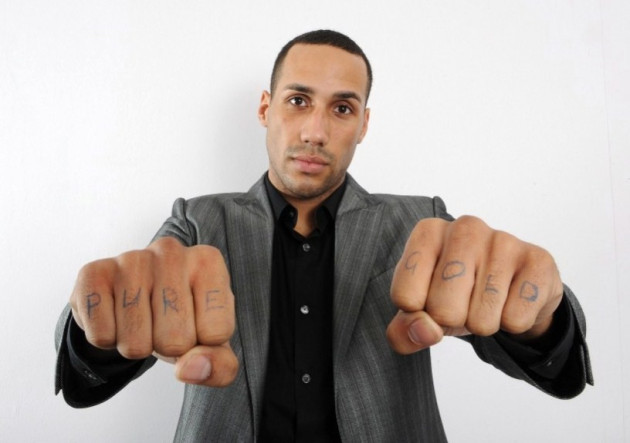 "The momentum is what it is all about. I just need to stay active and I'll be fine," says DeGale, before turning his attention to possible opponents. "The super-middleweight division is probably the best weight division in boxing overall. There are some great fights out there for me, even if the winner of Kenny Anderson and Robin Reid faces me for my European title then that would be a great domestic fight.
"If there was the public demand then I would be well up for it. But in the world [IBF super-middleweight champion Carl] Froch would be another blockbuster; a Groves rematch, or any of the good American names."
How about the likes of Andre Dirrell, Jermaine Taylor or Robert Steiglitz? "Perfect names," answers DeGale. "They are big names on the world stage and in some cases are former champions. If you give me two of three more fights then I will be ready.
"Someone like Arthur Abraham would also be perfect. But once I get the rounds under my belt and I get the momentum then I am willing to fight anyone. I am confident of going on to win a world title."
These fighters have all been around the world stage for a number of years and it is a sign of the confidence of DeGale that he believes he will be able to challenge them within a few bouts. With a European title safely around his waist after just 12 fights, it would make sense that the next step is a world title opportunity.
Momentum will play a major part in whether 'Chunky' can achieve his dream of becoming a world champion. DeGale has the natural skills and talent, what he desperately needs is experience. Promoter Mick Hennessey, who is also guiding heavyweight Tyson Fury to a world title opportunity, needs to make sure that his fighter remains busy in the coming year.
Since hearing the national anthem in Beijing and proudly parading his gold medal there has been just once dream for DeGale. Win a world title. Now he hopes that fantasy can become a reality.
"Hopefully this time next year I will be a world champion. I want to be mixing it with the big boys; it's time to get this rolling."