2008 Olympic champion James DeGale makes the second defence of his IBF super-middleweight title against Rogelio Medina at the DC Armory in Washington DC on Saturday 30 April.
How to watch
DeGale vs Medina is available to watch live in the UK on Sky Sports 1 HD. Their coverage gets underway at 2am [BST] so expect the fight to follow shortly after.
Preview
After taking the belt off Andre Dirrell in Boston last year, DeGale has remained largely untroubled as IBF champion. The Londoner has barely been back this side of the Atlantic, beating Lucian Bute via a unanimous decision in Quebec last November. He is back in the United States for his meeting with Medina, but the main purpose of Saturday's fight will be taking a step closer to setting up a unification bout with Badou Jack, who headlines the card in Washington with a title defence of his own against Bute.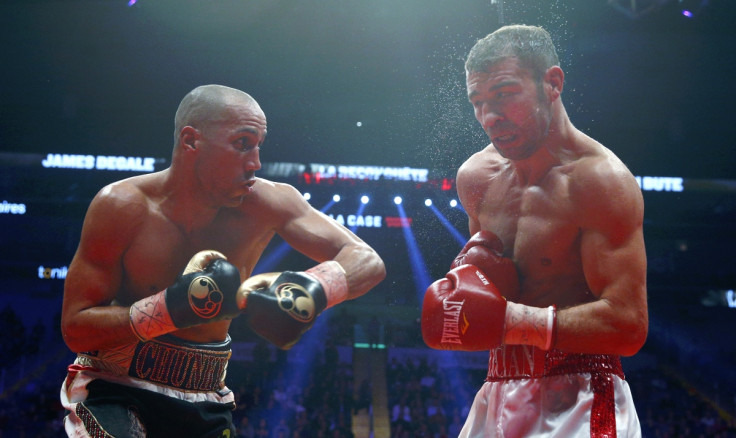 DeGale was originally meant to take on Jose Uzcategui (24 wins, one loss), only for the mandatory challenger to withdraw due to illness. DeGale says he is levels above Medina, ranked No3 in the IBF rankings, and he isn't wrong. The 27-year-old Mexican lost a decision to DeGale's would-be opponent Uzcategui in 2013, two years on from being dismantled by Yori Boy Campas, then aged 39. Badou Jack, the man DeGale hopes to fight next, also knocked Medina out within six rounds three years ago, so the Briton will be looking to deliver a similarly comprehensive victory on Saturday night and has promised an early finish.
What they've said
DeGale: "Fight time is here, I'm feeling good, feeling fresh. I've trained extremely hard. Porky Medina is a good fighter in his own right, a very good fighter, but there are levels to professional boxing and I feel as though I am levels above him.
"On Saturday night I am going to show you a real performance. My last two performances have gone the distance, this time it won't. Best of luck to Badou Jack and Lucian Bute, that's a great top of the bill, trust me, but I am coming for the winner. I want to unify the division."
Medina: "I think that DeGale has a lot of good qualities as a fighter and I think that the fight is going to be very intense because I've been training hard for it. I've been training to put pressure on him and to make it an intense fight and try and knock him out.
"I've noticed that he's a quick fighter, he's fast. He's got good technique but I also see that he sometimes likes to stand and trade and I hope that he decides to stand and trade with me so we can give the fans a good fight."
Records
DeGale – 23 fights, 22 wins (14 via knockout), one loss
(W) Lucian Bute – via unanimous decision – November 2015
(W) Andre Dirrell – via unanimous decision – May 2015
(W) Marco Antonio Periban – technical knockout – November 2014
Medina – 42 fights, 36 wins (30 via knockout), six losses
(W) Samuel Miller – knockout – May 2015
(W) Luis Acevedo – technical knockout – January 2015
(W) Ernesto Aboyte – knockout – (January 2015)
Prediction
A comfortable win inside the distance for DeGale.
Odds [via Sky Bet]
DeGale win – 1/20
Medina win – 9/1
Draw – 33/1