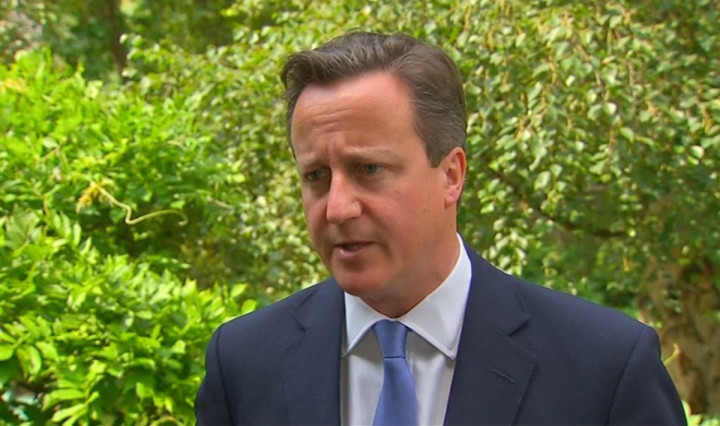 David Cameron has condemned the "barbaric and brutal" murder of James Foley, adding that it is likely that a British Jihadist carried out the beheading that has shocked the world.
Cutting short a family break in Cornwall, the Prime Minister made the statement after holding crisis talks with intelligence officials following the release of the video footage by Islamic State (IS) extremists.
US journalist James Foley, who was seized by armed men in Syria in November 2012, was killed by a man with a British accent.
"Let me condemn the barbaric and brutal act that has taken place and let's be clear what this act is - it is an act of murder, and murder without any justification," said Cameron.
"We have not identified the individual responsible, but from what we have seen it looks increasingly likely that it is a British citizen.
"This is deeply shocking. But we know that far too many British citizens have travelled to Iraq and travelled to Syria to take part in extremism and violence. And what we must do is redouble all our efforts to stop people from going," he explained.
"To take away the passports of those contemplating travel, to arrest and prosecute those who take part in this extremism and violence. To take extremist material off the internet and do everything we can to keep our people safe. And that is what this Government will do.'
UK intelligence chiefs said they would use voice recognition technology to try and identify the British perpetrator of the heinous crime.
It has been claimed that the jihadist is the leader of a group of British fighters holding foreign hostages in Syria and are known to their captors as 'The Beatles'.
The militant allegedly called himself John and is believed to be from London. He is said to be the main rebel negotiator during talks earlier this year to release 11 Islamic State hostages, who were eventually handed to Turkish officials after ransom demands were met.
Mr Cameron said there would be no "knee jerk" escalation of British military involvement in the region in response to the beheading and that the UK would continue to adhere to a "very clear foreign policy" of working with the new Iraqi government and helping arm the Kurds in their fight against the jihadists.
"I have been very clear as Prime Minister over the past four years that this battle that we face against Islamist extremism - not the religion of Islam but a poisonous, extremist, violent narrative - is a generational struggle.
"It is a battle we have to fight in our own country, it is a battle with allies using everything that we have - our aid, our diplomacy, and yes on occasions our military powers - that we have to fight, whether it is dealing with this problem in Somalia, in Mali, in Afghanistan, in Iraq, in Syria, because as much as we want to focus on keeping ourselves safe here at home ... what happens in these other far-flung places can come back and cause huge harm here too."
Scotland Yard, which leads counter-terror policing in the UK, has confirmed it is investigating the video and reminded social media users that spreading extremist material is a crime.
Cameron's remarks came as Government sources revealed the scale of the threat facing Britain from UK-linked terrorists.
A source said 400-500 Britons are currently fighting for ISIS in Syria and Iraq, with hundreds more having returned from the front line and continuing to reside in the UK.
Meanwhile, in a televised statement, US President Barack Obama said the world was "appalled" at the beheading of US journalist James Foley at the hands of IS. He added that the United States will continue to battle against the terrorist group as they "have no place in the 21st century".