Iraq Crisis: US President Barack Obama Says Isis 'Has No Place in 21st Century'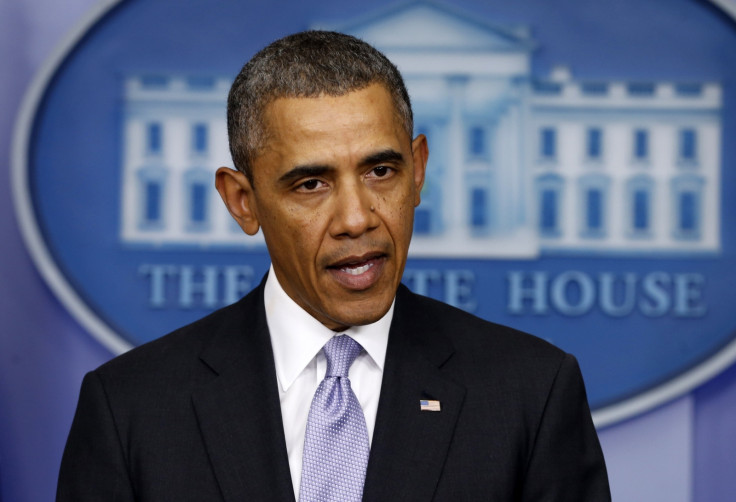 US President Barack Obama has said the United States will continue to battle against Isis (known as the Islamic State) as they "have no place in the 21st century".
"The United States of America will continue to do what we must do to protect our people. We will be vigilant and we will be relentless. When people harm Americans, anywhere, we do what's necessary to see that justice is done," he said.
In the televised statement, the American leader said the world was "appalled" at the beheading of US journalist James Foley at the hands of the terror group. He added that he had spoken to Foley's family and offered his condolences.
"Jim was a journalist, a son, a brother and a friend. He reported from difficult and dangerous places, bearing witness to the lives of people a world away."
Obama then moved on to IS and its actions across the Middle East, talking of its abduction of children and women and murder of both Muslims and Christians.
"Isis speaks for no religion. Their victims are overwhelmingly Muslim and no faith teaches people to massacre innocents. No just God would stand for what they did yesterday and what they do every single day," he said.
"Isis has no ideology of any value to human beings. Their ideology is bankrupt. They may claim, out of expediency, that they are at war with the United States or the West, but the fact is they terrorise their neighbours and offer them nothing but an endless slavery to their empty vision and the collapse of any definition of civilised behaviour."
Earlier, a US official confirmed that American fighter jets and drones carried out nearly a dozen air strikes on IS positions in northern Iraq in spite of the terror group's threat to kill Steven Sotloff, a second kidnapped American journalist, in retaliation for further strikes.
The official, who was not authorised to discuss the ongoing operation publicly and spoke on condition of anonymity, said the air strikes were targeting the areas surrounding the Mosul Dam in order to aid the Iraqi and Kurdish troops that had recently recaptured the strategically important facility from the group.
© Copyright IBTimes 2023. All rights reserved.