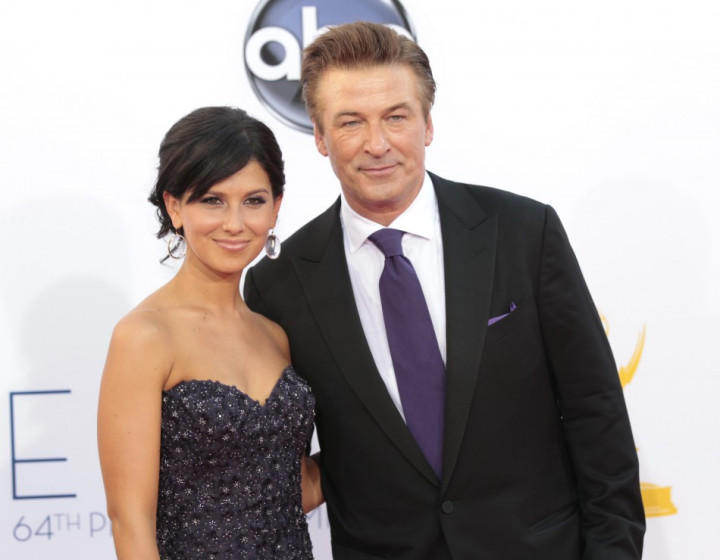 Alec Baldwin and his wife Hilaria were accused of disrespect for allegedly posting wedding anniversary gift ideas and promotional tweets during James Gandolfini's funeral service.
The 30 Rock star and the heavily pregnant yoga instructor faced a fierce backlash from fans after their social media feeds appeared to fill up with upbeat posts as mourners laid the Sopranos star to rest at a Catholic church in New York.
Gandolfini, loved for his starring role as mob boss Tony Soprano in the HBO crime drama, died of a heart attack on holiday with his son in Rome. He was 51.
As family members, friends, fans and celebrities gathered to pay their final respects at a memorial service held in the Cathedral Church of St John the Divine, Hilaria paid tribute to the father-of-two.
"The circle of life is unbelievable - birth, life, death," she tweeted. "Please take care of yourselves as life is fragile. Rest in Peace, Jimmy," she told her 14,000 followers.
But within minutes the 29-year-old, who is due to give birth to her first child, posted to her followers: "What did you do for your first wedding anniversary? What did you give your partner? Ours is coming up!"
She later retweeted a post from the Rachael Ray show promoting one of her own recipes. "I'm sure you have some amazing recipes," she wrote.
According to the Daily Mail, Baldwin also appeared to venture into the twittersphere during the service to promote a new movie titled Dirty Wars, posting a link just a short time before he honoured Gandolfini.
The couple's promotional messages angered many Twitter users who accused the stars of showing a lack of respect.
"Disrespectful and in shockingly bad taste. Pretty lady, zero class," one outraged user said.
Another wrote: " Rude and tacky but at least it shows the type of person she is. Some people just have no restraint from using electronics and I find that pathetic.
"You can't focus for a couple of hours without tweeting? How will she have time to pay attention to her new baby?"
Hilaria denied being responsible for the tweets and said she did not have her phone with her.
"I don't believe in bringing phones into a funeral and I never did and I never would," she said.
Baldwin added: "My wife and I attend a funeral to pay our respects to an old friend, and some toxic Brit writes this f---ing trash"
"I'd put my foot up your f***ing ass, George Stark [the writer who first made the claims about their behaviour at the service], but I'm sure you'd dig it too much.
"I'm gonna find you, George Stark, you toxic little queen, and I'm gonna f*** you up."