Private letters sent by Princess Diana to the man she admitted to have an affair with, James Hewitt, have allegedly been offered up for sale in the US. A selection of 64 letters owned by the former British Army officer, said to include handwritten notes by Prince William when he was eight years-old, are said to have been offered to "the highest bidder".
According to the Mail on Sunday, the letters from the former Princes of Wales are being offered around auction houses and private dealers in the US, some of which are said to be signed off with "kissy, kissy".
Hewitt, 57, previously told CNN's Larry King live in 2003 that he would be "available" to sell the letters from Princess Diana, claiming he had already been offered £4m ($6m) for 10 of them. He later retracted these claims in 2009, saying he would never sell off the letters.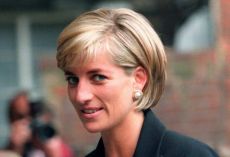 However, the Mail on Sunday alleged Hewitt is now attempting the sell the notes through a third party and found a buyer willing to pay for £100,000 for them, until Hewitt changed his mind. LA-based memorabilia dealer Gary Zimet told the paper: "Perhaps the offer wasn't enough".
He added: "He appears to have carefully chosen these letters because they are from the start of the relationship and are less salacious than the letters written at the height of their affair.
"I was told privacy was paramount because Hewitt was worried about the fall-out if it became public. He needs money, pure and simple."
In one letter, Diana wrote to Hewitt: "Dearest James, you have left and it all feels very empty here to me and that includes one bottle of champagne too!" Other letters are said to detail their affair, as well as notes which make the princess sound "like a giddy schoolgirl".