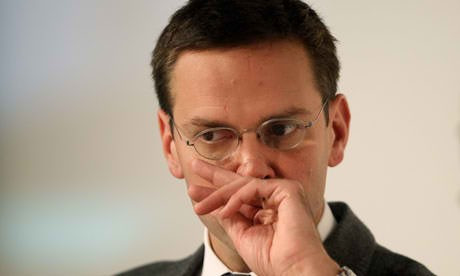 The son and heir of Rupert Murdoch, James, has resigned from his position as a director of News International following the News of the World phone hacking allegations revealed this summer.
It means that Murdoch will no longer have influence over the British held titles of News Corp owns which included The Times, The Sunday Times and the Sun.
The move is likely to prolong his career, however, at the top of News Corp, which owns international media including Sky Italia and Fox.
Murdoch, appearing at a parliamentary select committee two weeks ago over allegations that he may have misled parliament, blamed the former editor of the NOTW and legal adviser, Chris Myler and Tom Crone respectively for not having their facts straight.
But having used "negligence" as a form of defence saying that "News of the World represented a tiny part of the overall News Corporation, and therefore how could he have control over everything," Murdoch may well be relieved to be leaving the British media and political scene.
Early indications show that Murdoch was considering resigning from the board of News International two months ago, with Companies House filings showing that he had stepped down, but delayed in announcing the decision until now, most likely having been convinced by his father.
Murdoch Jnr, 38, will also face calls to step down as chairman of BSkyB next week when he faces shareholders at the AGM.