Great Britain face a mountain to climb to remain in contention for qualification to the Davis Cup World Group after Russia's Evgeny Donsky defeated James Ward in five sets to open up a 2-0 lead with three rubbers to play.
Ward led by two sets and a break in the third before succumbing as Donsky prevailed 4-6 4-6 7-5 6-3 8-6 to complete a miserable day for Britain after world No.325 Dan Evans took Dmitry Tursunov all the way, only to lose in five sets also.
With Wimbledon champion Jonny Marray partnering Colin Fleming against Igor Kunitsyn and Victor Baluda in the doubles rubber on Saturday, GB have a presentable opportunity to halve the deficit ahead of the reversed singles matches on Sunday, but face an almighty task to earn qualification to the World Group Play-Offs later this year.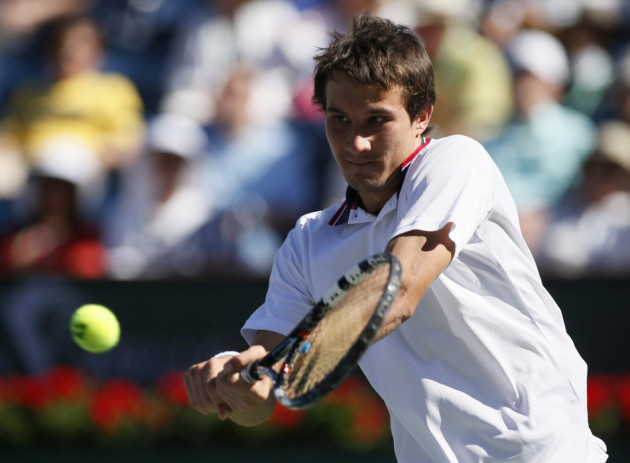 In the absence of Andy Murray, who continues to prepare for the clay court season, Ward came into the Davis Cup tie as Britain's most experienced player, having won seven of 11 previous rubbers.
Ward's opponent, Donskoy, took a set off Murray last month at Indian Wells, and with Russia having taken a 1-0 lead after Tursunov's win over Evans, the visitors had good reason to believe they could double their advantage going into the weekend.
But Ward, ranked 214th in the world, had other ideas and with the help of a net cord, went into a 2-0 lead early on.
The 26 year old's booming serve was providing his opponent with little opportunity to settle, but Donskoy's change of tactics, in coming forward, paid off in the eighth game as he broke Ward for 4-4.
Donskoy, 22, found the tramlines with a backhand cross court to hand Ward the set 6-4 however, as Britain took the lead in a match for the first time.
And Ward's authority was cemented at the start of the second set, with another early break.
Ward held his own for the remainder, seeing off a break point as he served for a two set lead after just over an hour, as he sought to put Great Britain on the board going into day two.
A break in the first game for the third successive set was a sign of Ward's unerring dominance, with the former Queens semi-finalist seemingly cruising towards levelling the tie.
The world No.80 stalled Ward's progress in game four, rasping a backhand on break point to level at 2-2.
Donskoy saved three break points in game seven as Ward failed to capitalise on consecutive forehand chances as the third set began to get away from the British No.2. At 15-30, Ward produced an ace to set up game point to take the third set into a tie-break, but a double fault and a long backhand set up a break point for Donskoy.
Despite Ward's first serve percentage dropping he was able to keep out the Russian on three occasions, finally with a stinging forehand, and as set points came and went, Donskoy made it fourth time lucky, as his passing shot secured the third set at 7-5.
The set swung the contest in the favour of Donskoy, who soared into a 4-1 lead in the fourth with Ward losing his way further will every passing rally.
Where Ward's ground storkes had previously succeeded, Donskoy was equal to them, taking the match to a fifth and deciding set with the match deep in its' third hour of play, after converting a fourth set-point chance.
The nervy opening to the final set allowed Ward to gain a valuable foothold in the match once again, but Donskoy looked on the brink of a thrilling comeback when he created two break point chances. Ward showed composure as his lob landed inside the baseline as the two players were locked together at 4-4.
The pressure immediatly switched to Donskoy, who was forced into saving the match twice after rapid Ward service games as the second rubber entered a sudden death tie-break.
And the first blood went to Russia, as Donskoy set up three break points with a brilliant cross-court backhand, taking the second before serving out the match despite Ward saving two match points as the 2006 champions' lead was doubled going into the weekend.