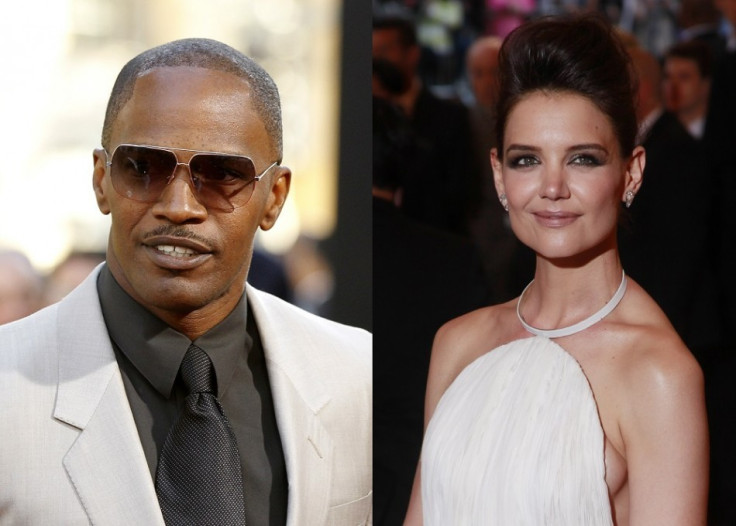 Katie Holmes is reportedly head over heels in love with Jamie Foxx. Moreover, the Batman Begins actress feels that the relationship she shares with the Django Unchained actor is the "most special" one she has ever had.
According to Hollywoodlife, Foxx makes the 37-year-old actress "feel incredibly sexy" and treats her like the "most beautiful woman in the world".
"Katie [Holmes] loves Jamie [Foxx] for so many reasons — he's handsome, smart, funny and caring," a source told the gossip website. "As if that wasn't enough he's also so sweet to her, telling her how gorgeous she is constantly. He treats her like the most beautiful woman in the world. Jamie makes Katie feel incredibly sexy."
"They've had a roller coaster relationship, but they keep coming back for more. It's the most special romantic relationship Katie's ever had," the source added.
Adding to their "special romantic relationship", a report has claimed that Holmes is pregnant with the 48-year-old's child. According to OK! magazine, Holmes told her friends about her pregnancy during a dinner party in Los Angeles.
"Her friends say Katie was positively glowing and could barely conceal her excitement," a source told the magazine. "Word is, she confessed to the small group gathered there that she's almost three months pregnant with Jamie's baby!"
But, according to HollywoodLife, Foxx's and Holmes's representatives have denied the pregnancy news.
Holmes and Foxx first sparked romance rumours in 2013 after the two were photographed dancing together at the 4th annual Apollo in the Hamptons. Since then the two have been spotted together on numerous occasions, but have never officially confirmed their relationship.
Holmes split from Tom Cruise in 2012 after six years of marriage. The two share two children - Suri Cruise, 10, and his daughter Annalise, 7.