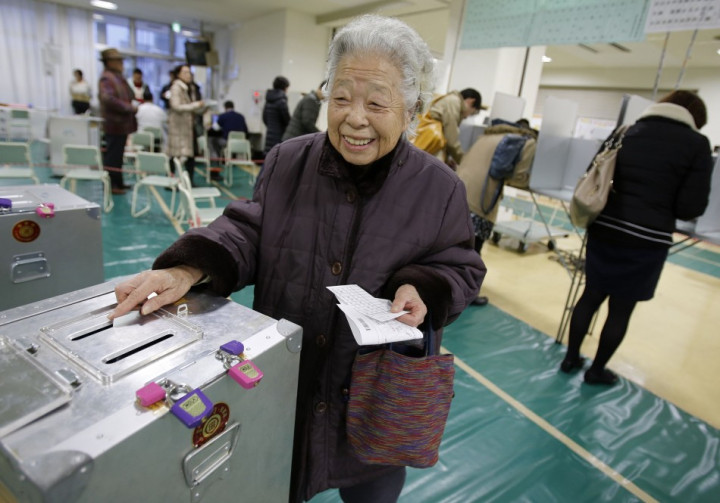 Exit polls suggest that ex-Prime Minister Shinzo Abe is poised to return to power in Japan with a landslide election victory for his Liberal Democratic Party (LDP).
The conservative LDP is forecast to win 275 to 310 of the 480 seats in the lower house of the Japanese parliament. LDP's ally New Komeito party is expected to win 30 seats.
Japanese media expect the coalition to enjoy a two-thirds majority in the lower house.
Meanwhile, incumbent Prime Minister Yoshihiko Noda and his Democratic Party of Japan (DPJ) are forecast to win fewer than 100 seats.
The LDP will return to power after a three-year hiatus following its defeat in 2009, which ended 50 years of almost unbroken rule.
Abe, 58, served as prime minister of Japan between 2006 and 2007.
The economy, security and nuclear energy were the dominant issues in the election, which took place at a time when anti-China feeling is running high.
"With stronger monetary policies, fiscal policies and growth policies, we will end deflation, correct a high yen, and grow the economy," Abe said in an appeal to voters ahead of the polls. The Japanese economy and exports have come under pressure from years of deflation, a strong yen and the rise of manufacturing in China.
Abe is also known for his fierce stand on the disputed ownership of a group of islands in the East China Sea, known as Diaoyu in Chinese and Senkaku in Japanese. The row over the islands recently led to travel boycotts and street protests in both countries. Protesters even vandalised Japanese businesses in China, forcing Japanese companies to suspend operations.
Another concern for the Japanese is the perceived threat from North Korea, whose recent rocket launch has dismayed near-neighbours South Korea and Japan.
Meanwhile, China sees rising nationalism in Japan as a potential threat to regional stability.
"It is a troubling sign that some of the political parties vying for the 480 seats of Japan's lower house of the parliament have pledged to take a tough stance on territorial disputes and boost military spending to woo rightist voters," read a commentary in Xinhua.
"An escalation of tensions also carries heavy economic costs."
According to Japanese media reports, voters are disappointed with incumbent Prime Minister Yoshihiko Noda and the ruling Democratic Party of Japan (DPJ).
Voters feel that the DPJ has failed to keep promises made when they came to power in 2009, including increased welfare and social security spending.
The government struggled to live up to people's expectations as the country had to cope with a huge earthquake, a devastating tsunami and nuclear disaster in 2011 along with internal party problems. Noda is the third DPJ prime minister in three years.