The Izumo helicopter carrier, Japan's biggest warship, will embark on a three-month tour through the South China Sea in the biggest show of naval strength in the region since the Second World War.
The ship can carry out amphibious operations, anti-surface and anti-submarine warfare, according to Military Today. It will make stops in Singapore, Indonesia, the Philippines and Sri Lanka before taking part in the Malabar joint naval exercise with US naval ships in the Indian Ocean in July 2017.
The carrier was commissioned two years ago and built at a cost of $1bn (£818m). It is due back in Japan in August, according to Reuters.
"The aim is to test the capability of the Izumo by sending it out on an extended mission," said a Japanese military source.
"It will train with the US Navy in the South China Sea," he added, asking not to be identified as he is not authorised to talk to the media.
General Nakatani, Japan's Minister of Defence told the China Morning Post that the Izumo "helps improve our ability to combat submarines."
Japan has no claim to the disputed waters, but has a separate maritime dispute with China in the East China Sea. A spokesman for Japan's Maritime Self Defence Force declined to comment.
The Izumo, which can carry a crew of over 400, is an example of Japan expanding its military capability overseas. Japan is increasing its firepower with longer-range patrol aircraft and military cargo planes. Lockheed Martin F-35 fighter jets, amphibious assault vehicles have been purchased as well as Boeing's Osprey troop carrier, which can operate from the Izumo.
Prime Minister Shinzo Abe has been seeking lawmakers' approval to ease the restraints of Japan's pacifist post-war constitution is causing tension with China.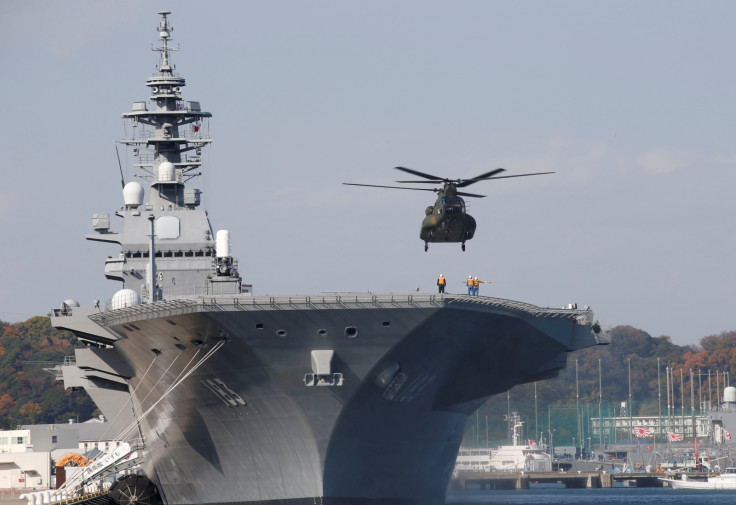 China claims almost all the disputed waters in the South China Sea, stating it has "irrefutable" sovereignty and has continued building man-made islands in the region that has caused concern with US allies in the region, such as Japan and South Korea.
"Building islands and then putting military assets on those islands is akin to Russia's taking of Crimea. It's taking of territory that others lay claim to," US Secretary of State Rex Tillerson said in a CNN report.
"We're going to have to send China a clear signal that first, the island-building stops, and second, your access to those islands (is) also not going to be allowed."