A US admiral on Friday (3 March) said the American navy would continue to patrol the South China Sea to ensure freedom of navigation operation. He said the presence of aircraft carrier USS Carl Vinson shows America's "commitment" and not its power to the Asia-Pacific region.
"We have operated here in the past, we're going to operate here in the future, we're going to continue to reassure our allies," Rear Admiral James Kilby said on board the aircraft carrier USS Carl Vinson.
The US deployed the aircraft carrier strike groupin the disputed waters of the South China Sea on 18 February and it is reported to be as part of its routine maritime operations. Along with the 97,000-ton Carl Vinson, a guided-missile destroyer USS Wayne E Meyer has also been sailing the international waters.
The Vinson is thought to be carrying a flight group of more than 60 aircrafts, including F-18 fighter jets.
"We're going to continue to demonstrate that international waters are waters where everyone can sail, where everyone can conduct commerce and merchant traffic and that's the message we want to leave with people," AP cited Kilby as saying.
According to Reuters, some 30 fighter jets, helicopters and other aircraft took off from the Vinson carrier on Friday (3 March) as part of the freedom of navigation operation patrols in the sea. The kilometer-long flight deck of the Carl Vinson sailed some 400 nautical miles east of China's Hainan Island and northeast of the Paracels on Friday.
Kilby's comments came within days after reports emerged that China was installing missile defence systems on the artificial islands it recently built in the contested waters. It also came amid questions about US' role in the region under President Donald Trump's administration, which has set out policies tilted heavily towards a domestic agenda.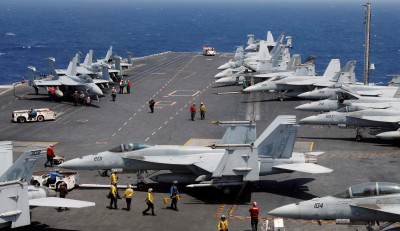 China has claimed all of these islands after seizing control of it from Vietnam in the 1970s. It also claims most of the South China Sea and its ever growing military presence there has stoked tensions in the region and has been a major concern in the West as well. It is reported to have led the US to hold regular air and naval patrols to ensure freedom of navigation.
But it has often irked China, although some of its exercises have been far away from the disputed territories. But Beijing has warned that such sailing could "end in disaster". Some critics too believe the patrols have not helped in stopping China from building structures that it claims are for its own defence.
The crew aboard Carl Vinson is expected to spend five months in Asia, Reuters reported.