Japan ends peacekeeping mission in war-torn South Sudan
Tokyo denies claims withdrawal due to deteriorating of security situation in conflict-ridden South Sudan.
Japan has announced its decision to pull out its peacekeepers from war-torn South Sudan after five years. The 350-person contingent has been constructing roads in the world's newest nation.
"As South Sudan enters a new phase of nation-building, we have decided that we can now put an end to our infrastructure building efforts," said Prime Minister Shinzo Abe.
Some have claimed the decision was motivated by fears for the safety of troops in South Sudan, where a bitter civil war has claimed thousands of lives.
However, Chief Cabinet Secretary Yoshihide Suga denied the claims. "The decision is a result of our comprehensive considerations and not because of the deteriorating security situation," he said.
Japan's constitution limits the use of military force and outlaws the right of belligerency of the state. Article 9 renounces war "as a sovereign right of the nation and the threat or use of force as means of settling international disputes."
However, the team sent to South Sudan was granted a mandate to use force in order to protect civilians and humanitarian personnel.
The decision to withdraw troops came after Japanese opposition lawmakers and peace activists criticized the government for allegedly violating the country's war-renouncing principles.
There are some 17,000 troops from the United Nations Mission in the Republic of South Sudan (UNMISS) in the country. 4,000 are part of the Regional Protection Force, deployed after clashes killed hundreds in the capital Juba in July 2016.
South Sudan war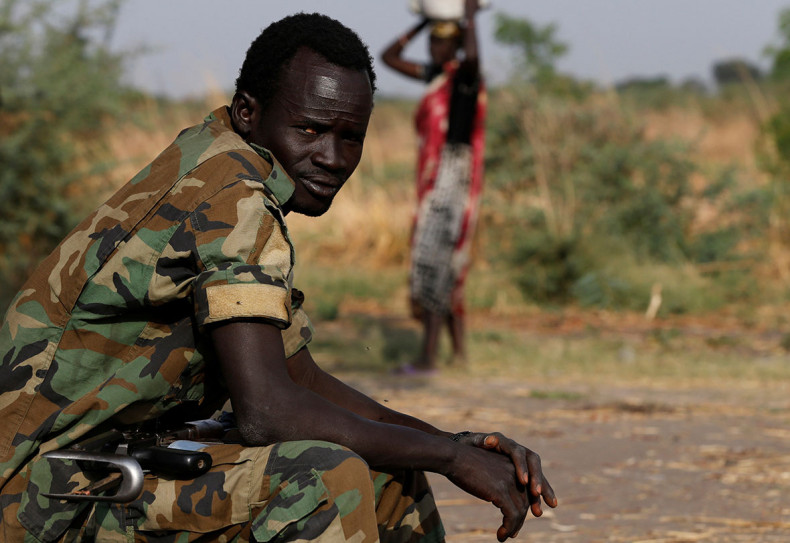 The South Sudan conflict erupted in 2013 when President Salva Kiir, of the Dinka ethnic group, fired his deputy Riek Machar – from the Nuer group – who then became a rebel leader.
Ethnic-related violence targeting Dinka and Nuer has killed an estimated 50,000 people, amid allegations of crimes against humanity committed by both sides, including rape, torture and the use of child soldiers.
IBTimes UK's exclusive interview with Machar:
At least 1.5m people have fled to other countries. The exodus has been deemed "Africa's worst refugee crisis".
More than 2m are internally displaced as the country is on the verge of a Rwanda-style genocide.
The conflict has been claimed for a famine, recently declared in parts of Unity State, in the upper Nile region. It is the first famine to be declared in any part of the world since 2011.
At least 100,000 people are facing starvation, and millions across the country are affected by food insecurity.
Kiir and Machar have agreed on several peace deals – the last of which was signed in August 2015 – but have failed to control their troops, who have broken every ceasefire since 2014. Machar fled South Sudan following deadly fighting in the capital Juba in July 2016.
He is currently in South Africa seeking medical treatment but, in an exclusive talk with IBTimes UK, Machar said he was ready "to go home".
His wife, Angelina Teny, also a member of SPLM-IO, told IBTimes UK she believes her husband can contribute to achieving peace in the war-torn nation which is on the verge of a Rwanda-style genocide.