Japan marked the 71<sup>st anniversary of the Hiroshima tragedy on 6 August, urging world leaders to work towards ridding the world of nuclear weapons. Hiroshima Mayor Kazumi Matsui and Japanese Prime Minister Shinzo Abe addressed a crowd of roughly 50,000 people at the Peace Memorial Park where a moment of silence was held in honour of the who were killed.
A peace bell was rung at 8.15am local time (12.15am BSTP) to mark the exact time that a US warplane dropped the atomic bomb on Hiroshima in 1945. The attack killed thousands of people instantly and a further 140,000 people died by the end of the year from the effects of radiation. A second atomic bomb being dropped on the southern city of Nagaski on 9 August.
Prime Minister Shinzo Abe said during the ceremony: "We must not have the tragic experience of Hiroshima and Nagasaki 61 years ago repeat itself. It is the responsibility of those of us who live in the present to keep working without cease toward that aim."
In May 2016, President Barack Obama became the first serving US president to visit Hiroshima since the US atomic bombing in World War II. During his speech on 6 August, Mayor Matsui urged other world leaders to follow in the outgoing US President's footsteps.
During Obama's visit to the Hiroshima, he spoke to survivors of the attack and issued an address calling on nations to pursue a world without nuclear weapons. He noted that the memory of Hiroshima must never fade and that the bombing had shown us how "mankind possessed the means to destroy itself".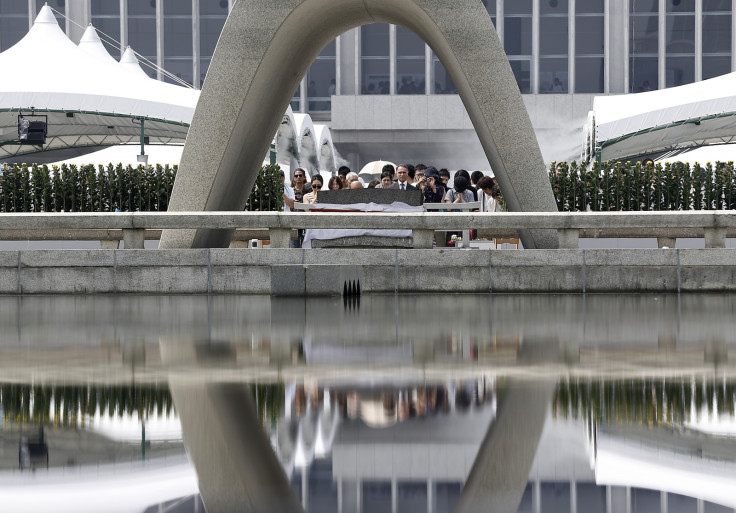 On the 6 August anniversary, Hiroshima's mayor Matsui said: "The president's words showed he was touched by the spirit of Hiroshima, which refuses to accept the 'absolute evil'. I once again urge the leaders of all nations to visit the A-bombed cities. As President Obama confirmed in Hiroshima, such visits will surely etch the reality of the atomic bombings in each heart."
US Republican presidential nominee Donald Trump has said that he would consider letting Japan build their own nuclear weapons, so that they do not have to rely on the US for protection against North Korea and China. However, his was dismissed by Japan's Defense Minister Tomomi Inada, who said she did not believe Japan should consider possessing nuclear weapons.