The 2016 Olympics kicked off in Brazil on 5 August, with at least 3 billion people from around the world watching the opening ceremony at Rio's Maracana Stadium. Although the event hosted a spectacular show of dancing, music, fireworks and light displays, critics have been divided over the defining climate change theme.
The festive mood was toned down during the ceremony as viewers' attention was diverted to the dangers of climate change, with a voice warning: "The heat is melting the ice cap. It is disappearing very quickly."
Although many have congratulated the Olympics host country for taking a bold step towards fighting climate change, others have been quick to point out Rio's own environmental record, branding the country as "hypocrites".
Ahead of the Olympic Games beginning, the United Nations was forced to issue a warning for spectators and competitors to spend as little time in Rio waters as possible due the amounts of untreated human waste that collect in it. They advised that people should not go in the water for several days after it rains, as rainfall worsens the quality of water due to "wash[ing] off contamination" that has built up on the land.
Advice from the World Health Organisation (WHO) warned: "It is suggested that all athletes should cover cuts and grazes with waterproof plasters prior to exposure, try to avoid swallowing the water, wash as soon as possible after exposure, and as far as possible, minimise their time in the water and avoid going in the water after heavy rainfall."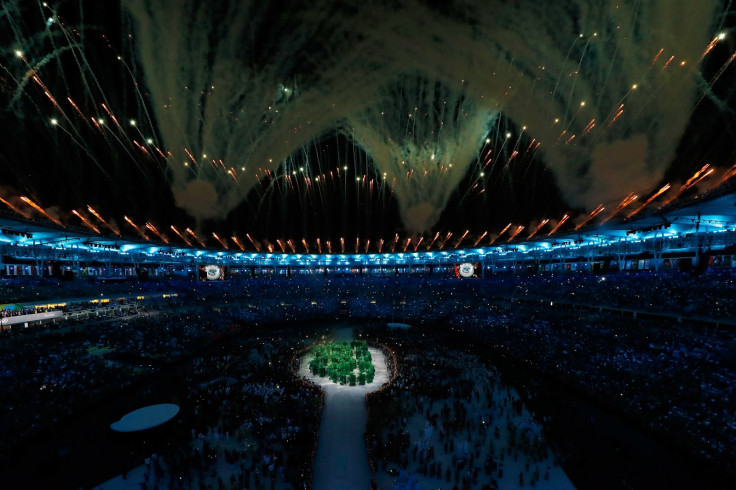 On 1 August, a survey conducted by the Associated Press warned that the waterways of Rio de Janerio are as filthy as ever and that athletes are at risk of getting violently ill when taking part in sports such as sailing and open water swimming, while tourists face risks on the beaches of Ipanema and Copacabana.
This, along with other issues raised by people in regards to Brazil's climate change situation, prompted people to take to Twitter to dismiss the "lecture" during the opening ceremony. Many raised the point that all those flying to Brazil for the Olympics was also increasing their carbon footprint, dismissing the green peace sign shining in the middle of the stadium and the athletes' pledges to plant trees native to Brazil.