Japan's chief cabinet secretary is being criticised over his comments urging women to 'bear many children' to contribute to the country. Yoshihide Suga's comments come as the nation attempts to increase the female participation in the workforce.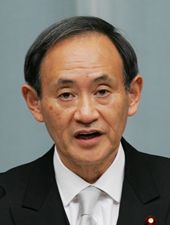 Reflecting on the recent marriage between Japanese actors, Masaharu Fukuyama, 46, and Kazue Fukiishi, 33, Suga told a Fuji TV news show: "With their marriage, I am hoping that mothers will contribute to their country by feeling like they want to have more children ... Please bear many children."
Suga's comments were met with a storm of criticism with some social media users blaming the demographics and falling birthrate for the politician's sexist comments. "Politician tells #women to 'contribute' by having more babies ... Obviously #demographics are bad, so back to bed," tweeted one user.
Suga later elaborated on his comments and told a press conference, reported The Telegraph: "It's obvious that getting married and having children is a matter of personal freedom. To create a society that is supportive of child-rearing parents is a role of the government, and we are also working to realise a society where women can shine."
In 2007, the Japanese health minister landed himself in a similar sexism row when he referred to women as 'birth-giving machines' that hold the key to saving the nation's falling birth-rate. According to health ministry experts, Japan's population is predicted to fall to 89 million by 2055.
"The number of women aged between 15 and 50 is fixed ... Because the number of birth-giving machines and devices is fixed, all we can do is ask them to do their best per head ... although it may not be so appropriate to call them machines," said the minister Hakuo Yanagisawa, reported The Guardian.