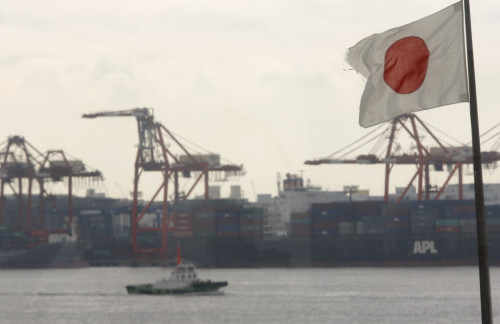 Japan\'s trade deficit rose to record levels as the country\'s energy import bills soared due to a weak yen.
Japan\'s deficit increased to 11.5tn yen ($112bn, £68bn, €82bn) in 2013, representing a 65% jump from a year ago and the largest deficit since comparable data started in 1979. It has been the country\'s third straight year of trade deficit.
Exports rose 9.5% to 69.8tn yen in 2013, but they were more than offset by a 15% jump in imports to 81.3tn yen.
In December, imports rose 24.7% to 7.4tn yen and exports increased 15.3% to 6.1tn yen, resulting in a deficit of 1.3tn yen.
Japan\'s deficit with its largest trading partner China rose more than 43% in 2013 to 5.02tn yen, while its trade balance with the US was a surplus of 6.1tn yen, up nearly 20% from a year earlier.
High Energy Import Bills
Japan\'s energy imports have steadily been rising in recent years after it shut all of its nuclear reactors following the earthquake and tsunami-led Fukushima disaster in 2011.
Japan\'s imports of Liquefied Natural Gas rose 0.2% by volume in 2013, while coal imports volume rose by 3.5%.
In addition, the weakening of the Japanese yen against major currencies inflated the country\'s import bills. The currency fell more than 20% against the US dollar between January and December 2013.
The third-largest economy has suffered from growth stagnation over the past two decades. With a view to boosting growth and stopping deflation in the country, policymakers led by Prime Minister Shinzo Abe unveiled a series of aggressive fiscal and monetary measures.
With the help of the measures known as \"Abenomics\", the country returned to growth last year.
The measures that included doubling the money supply resulted in the weakening of the yen. While the weak yen boosted the profits of exporters, it also resulted in high import bills.
\"This is the costly flip side of Abenomics,\" Martin Schulz of Fujitsu Research Institute in Tokyo told the BBC.
\"The overall cost of imports is going up, but the exports are not rising enough to offset that.\"
Schulz added that \"the yen\'s weakness has yet to have a strong and positive impact on small and medium-sized exporters\".
The country had been known for the strength of its exports and it posted trade surplus figures for three decades. That came to halt in 2011, when the country posted a deficit of 2.6tn yen.