Barack Obama has become the first sitting US president to visit Hiroshima, 71 years after the world's first atomic bomb was dropped by US military on the city during World War Two. Accompanied by Japanese Prime Minister Shinzo Abe, both leaders laid wreaths at the Hiroshima Peace Memorial Park in remembrance to those who lost their lives– an act that both Tokyo and Washington hope will showcase their alliance and invigorate efforts to end nuclear arms.
Obama has however refused to apologise for the 6 August 1945 bombing that caused the deaths of roughly 140,000 people and will instead, honour the lives of all who died in World War Two. The city of Nagasaki was hit by a second nuclear bomb on 9 August 1945, and resulted in between 39,000–80,000 deaths. Japan surrendered six days later.
"We come to ponder the terrible force unleashed in a not-so-distant past," Obama said after laying a wreath at a peace memorial. "We come to mourn the dead."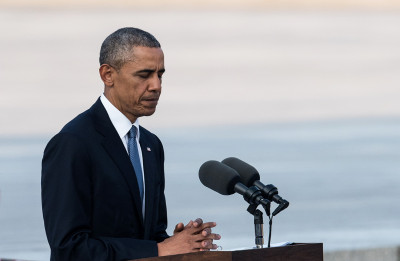 Prior to visiting the memorial, the US president was taken to a museum, filled with haunting displays of the devastating aftermath. Photographs of badly burned victims, the tattered and stained clothes they wore and statues depicting them with flesh melting from their limbs were among the exhibits showing the horrifying reality behind the bomb.
"We remember all the innocents killed in the arc of that terrible war," Obama said. "We have a shared responsibility to look directly in the eye of history. We must ask what we must do differently to curb such suffering again."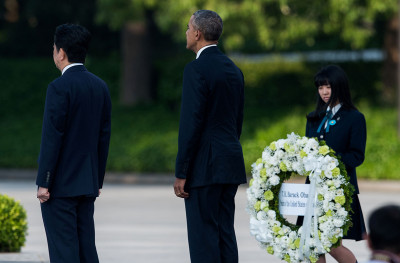 Most of Japanese population believe that the atomic bomb "Little Boy" was unjustified and those who survived have said they would accept an apology from the US president. However, many Americans have said that the bombings were necessary, in order to end the war and save lives.
"I want Obama to say: 'I'm sorry'. If he does, maybe my suffering will ease," said Eiji Hattori, 73, a toddler at the time of the bombing who now suffers from three types of cancer.
Critics have argued that by not apologising, Obama will allow Japan to continue the narrative that paints it as a victim.
"I will not revisit the decision to use atomic weapons in Hiroshima and Nagasaki, but I will point out that Prime Minister (Shinzo) Abe and I coming to Hiroshima together shows the world the possibility of reconciliation - that even former adversaries can become the strongest of allies," Obama said in written responses to questions published in the Asahi newspaper on Friday.