The British Museum is staging a collection of 19<sup>th-century Japanese art so shocking and explicit that it was locked away from more than a century.
The exhibition Shunga: Sex and Pleasure in Japanese Art is the first time these erotic paintings will be seen in public.
The images include a woman being pleasured by an octopus, Samurai warriors visiting their young male Kabuki actor lovers as well as two women enjoying sex with a dildo.
Tim Clark is the curator of the exhibition, which opens in October and is the first of its kind in the UK.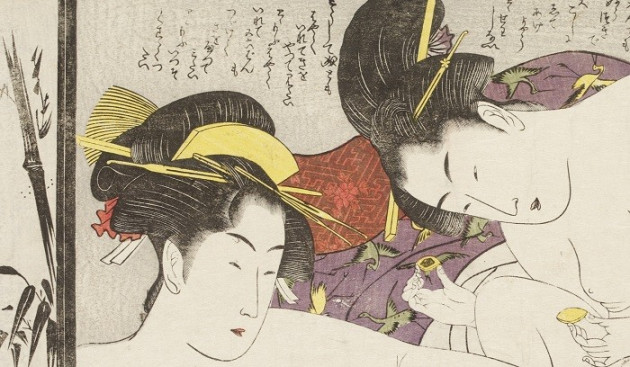 "Shunga means 'Spring Picture' and it's a very important part of Japanese art, paintings, prints and illustrated books. When Japan was a fairly closed society, it developed a fairly idiosyncratic culture in that period [1600-1900]. The drawings are extremely explicit, extremely beautiful."
In order to protect the young and those of a sensitive disposition, anyone under 16 entering the exhibition must be accompanied by an adult.
The exhibition is part of Japan400, a nationwide UK series of events celebrating 400 years of Japan-British relations. The show draws from collections in the UK, Japan, Europe and the USA. It features around 170 works including paintings, sets of prints and illustrated books with text.
Shunga were mostly produced within the popular school known as 'pictures of the floating world' (ukiyo-e), by some of the best Japanese artists such as Kitagawa Utamaro. Luxurious shunga paintings were for all strata of society, including the ruling class patrons by traditional artists such as members of the Kano school, sometimes influenced by Chinese examples.
The paintings flourished, especially in the 19<sup>th century, and were highly prized, with the artform uncensored for hundreds of years.
There were national networks of commercial lending libraries, and the main means of distribution for shunga books was not regulated.
Shunga had wide appeal, says Clark. "We know it had a top, elite audience because the prints were extremely expensive, costing thousands of pounds. This was the top end of the market. There was also a mass audience for the illustrated books with dozens of illustrations in several volumes."
"The ambition of shunga is much, much wider," says Clark. "It talks about sexuality generally in society. It's meant to appeal as much to married couples, to courting couples, to people who want to use it for stimulation or seduction. It was certainly used as a sex manual."