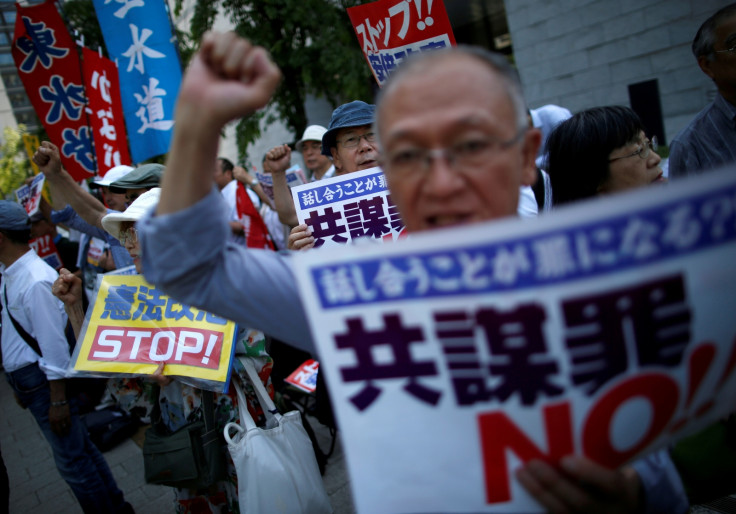 Japan's ruling coalition led by Prime Minister Shinzo Abe has passed a controversial anti-conspiracy bill, which would allow the police to arrest individuals conspiring to commit a crime, despite privacy concerns surrounding the legislation.
The governing bloc brushed off protests from opposition groups to push it through the Diet on Thursday (15 June) morning through a rare circumventing legislative process that bypasses committee-level approval. It was unorthodox for the Liberal Democratic Party and Komeito to skip the upper house committee vote and get ratification from a plenary session of the House of Councillors or the upper house.
While the government insists the law is necessary to thwart terrorism, critics have repeatedly pointed out that this would impinge on civil liberties and amount to invasive surveillance by state bodies.
"It's only three years until the Tokyo Olympics and Paralympics and so I'd like to ratify the treaty on organised crime as soon as possible so we can firmly cooperate with international society to prevent terrorism. That's why the law was enacted," Abe told reporters, defending the legislation. "We want to use this law appropriately and effectively to protect the public's lives and property."
Previous governments have unsuccessfully attempted to push through a similar law at least three times. The latest move is an amendment of an existing law dealing with organised crimes and criminalises as many as 277 different acts.
A group of people can be charged under the amended law if even one of them is plotting to commit a crime. However, legal experts who have been vocal against the measure have pointed out the law could be used against simple acts like copying music or sitting in protests for civil rights. Labour unions and civic groups could also be punished under the refurbished law, say the opponent groups.
Despite the government's reassurances, opponents are expressing concerns that this could broaden the state powers to target the public. "Is it that you don't want [the allegations] to be covered any more than this? Is that why you're embarked on the ultimate form of railroading [by bypassing the committee]," asked Democratic Party's lawmaker Renho in parliament.
Justice Minister Katsutoshi Kaneda stood by his decision despite a barrage of criticism including the expedited pace at which the law was passed in the Diet. "The scope of the bill is limited to organised crime syndicates, and it's only after preparations for crimes are made that one becomes punishable. In this sense, we believe criteria for what would constitute a crime under the revised law is clear," Kaneda said.