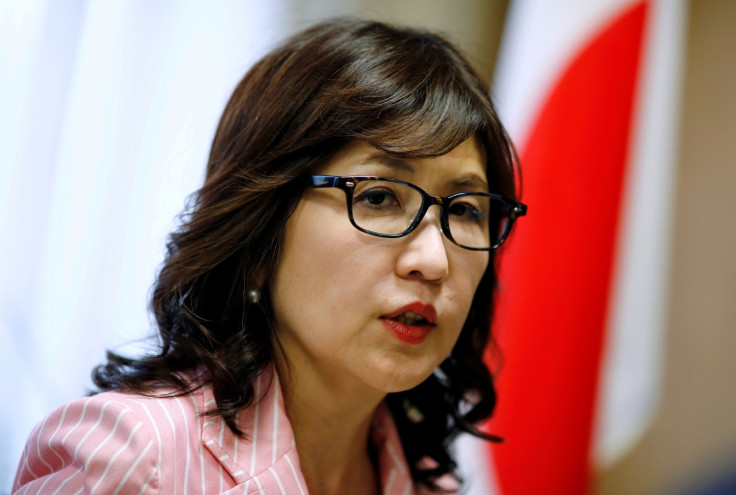 Japan's Prime Minister Shinzo Abe is reportedly looking to appoint the ruling party's policy chief Tomomi Inada as the country's new defence minister. According to a report in the local Asahi newspaper on Tuesday (2 August), the decision is likely to upset China and South Korea as she is known for her "hawkish" views on the country's wartime history.
It has emerged that Abe, who is expected to reshuffle his cabinet on 3 August, is set to give priority to stability by retaining several key ministers, Reuters news agency reported.
Fifty seven-year-old Inada is a close ally of Abe and is backing him on revising the post-war pacifist constitution, which is seen by some conservatives as a humiliating symbol of Japan's World War II defeat. The legacy of Japan's aggressive attitude before and during the war is said to have strained its relations with both China and South Korea.
Japan's relations with its neighbour China has also been strained by an ongoing dispute over the isles in East China Sea. Besides, Tokyo is also wary of China's military aggressiveness in the South China Sea.
If Inada gets picked as the defence minister, she would be the second woman to hold the portfolio after Yuriko Koike, the newly elected Tokyo governor, who held the post for a brief period in 2007. She has served as an administrative reform minister in an earlier Abe-led cabinet before being appointed as the ruling Liberal Democratic Party's (LDP) policy chief in 2014.
The reshuffle comes at a time when Abe is looking to accelerate his 'Abenomics' policies, while also handling multiple diplomatic challenges. It is also reported that he is eyeing to stay in office for a longer period even after his term as ruling LDP president expires in September 2018. He is already the country's longest ruling leader in the past decade.
Chief Cabinet Secretary Yoshihide Suga, Abe's right hand man, is also expected to be retained, along with Foreign Minister Fumie Kishida, Reuters reported. All the three ministers, including Inada, have held their portfolios since Abe took office in December 2012, with a promise to revive the flagging economy and to strengthen the military and security presence of the nation.
On Tuesday (2 August), Abe's outgoing cabinet was set to approve ¥13.5tn ($132.04bn) in fiscal steps to boost economic growth.
Abe is also said to recast the LDP executive line-up on 3 August. Toshihiro Nikai, 77, a big spending advocate who maintains good relations with China, is expected to be appointed LDP's secretary general. This move is said to have indicated the premier's hopes for a third term.