On Monday (27 March), it was revealed that Trump's son-in-law and White house advisor would face questions from the US committee investigating allegations Russia helped the Trump team during last year's presidential election.
The 35-year-old allegedly met the Russian ambassador and the chief of a Russian bank facing sanctions between Trump's 5 November victory and the presidential inauguration on 20 January.
Below IBTimes UK profiles the millionaire real estate heir who has become one of the most infleuntial figures in the White House.
The influence of Kushner within the Trump team grew over the course of the election campaign, during which he oversaw digital strategy and key appointments.
As Trump spoke to President Barack Obama at the White House two days after his 8 November election to smooth the way for the transition of power, Kushner was pictured on the South Lawn deep in conversation with Obama's chief of staff, Denis McDonough.
According to CNN, Kushner was at the centre of "infighting" inside the Trump transition team as rivals jockeyed for White House positions. He reportedly alienated allies by leading a "purge" against associates of former team chief, New Jersey governor Chris Christie.
As speculation that Kushner was set for a key role in the Trump administration grew, the President-elect was forced to deny reports that he had requested security clearance for Kushner and his daughter, Ivanka. Kushner was involved with meetings with key foreign leaders.
At the heart of controversy over Kushner's White House role are his myriad business interests.
Kushner is a wealthy property developer, and owns 666 Fifth Avenue, a skyscraper a few blocks away from Trump Tower in downtown New York. In 2006, aged just 25, he bought the once venerable, now ailing, New York Observer newspaper.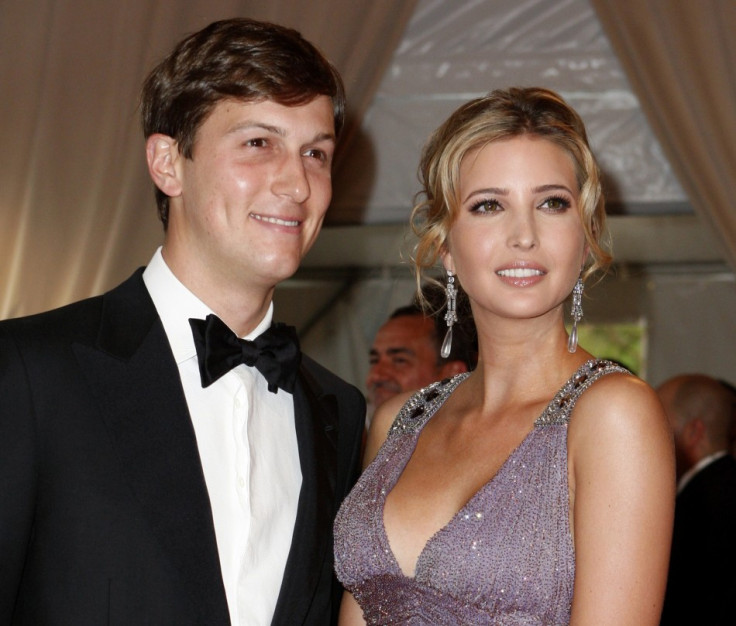 Kushner was born into wealth, raised in propserous Livingston, New York, with two sisters and a brother.
His grandparents had fled the Holocaust in Poland during World War II, and arrived in New York in 1949. His father, Charles Kushner, made a fortune in New Jersey real estate.
Charles Kushner is alleged to have secured his son a place study at Harvard with a $2.3m donation, despite his average grades. A controversial figure, he was jailed for tax evasion, illegal campaign contributions and witness tampering. He confessed to setting up his own brother-in-law with a sex worker and secretly filming the liaison, sending the tapes to his sister to dissuade them from testifying against him.
Some have speculated that Kushner's animus towards Christie dates back to 2004, when then attorney general Christie indicted Charles Kushner on several charges. Claims of a feud have been denied by the Christie camp.
After his father's imprisonment, Jared took over his real estate empire while still in law school, and at 26 orchestrated the most expensive purchase in real estate history, with the $1.8bn acquisition of 666 Fifth Avenue.
His career has parallels with that of his father in law, who also took over his father's property empire at a relatively young age.
Kushner will step down as boss of his family's real estate business and publisher of the New York Observer newspaper in order to comply with ethics laws ahead of Trump's 20 January inauguration, his lawyer Jamie Gorelick said.
Democrats have demanded the Justice Department and Office of Government Ethics scrutinise the appointment.
Key role in Trump election victory
After Trump announced his presidential candidacy, Kushner became involved in almost every aspect of the campaign.
Trump appears to trust Kushner's judgement, and reportedly sacked his controversial former campaign director Corey Lendowski on his recommendation after the two clashed.
Kushner is an Orthodox Jew and when he married Ivanka Trump in 2009, she converted to Judaism.
During the presidential campaign Jared controversially defended Trump against accusations of anti-Semitism, after the Republican candidate tweeted a picture showing a picture of his rival, Hillary Clinton, alongside an image that resembled the Star of David, a pile of cash, and the slogan 'most corrupt candidate ever.'
Kushner responded by writing in the Observer, "In my opinion, accusations like 'racist' and 'anti-Semite' are being thrown around with a carelessness that risks rendering these words meaningless."
Accusations of anti-Semitism were levelled at the Trump transition team with the appointment of controversial Steve Bannon as director of strategy. As editor of the right-wing Breitbart website Bannon courted the 'alt-right', a movement of white supremacists and anti-Semites who promulgate their views online.
During the transition Kushner has played an influential role, being involved in meetings with key foreign leaders. On Sunday, he and Bannon met UK Foreign Secretary Boris Johnson, in the first face-to-face encounter between the UK government and Trump team.
In his new role he will reportedly focus on trade policy and the Middle East.
The nepotism law is supposed to bar the appointment of family members to cabinet positions, and it is unclear if it applies to appointments to the White House team.
Concerns have been raised about Kushner's relationship with foreign investors, and on Saturday the New York Times reported that Kushner met the head of an insurance group with links to the Chinese government just days after Trump's win. His spokeswoman said the meeting was a coincidence and he had already decided to sell his stake in the building.
Gorelick said her client was committed to complying with federal ethics laws and had consulted with the Office of Government Ethics about what steps to take.