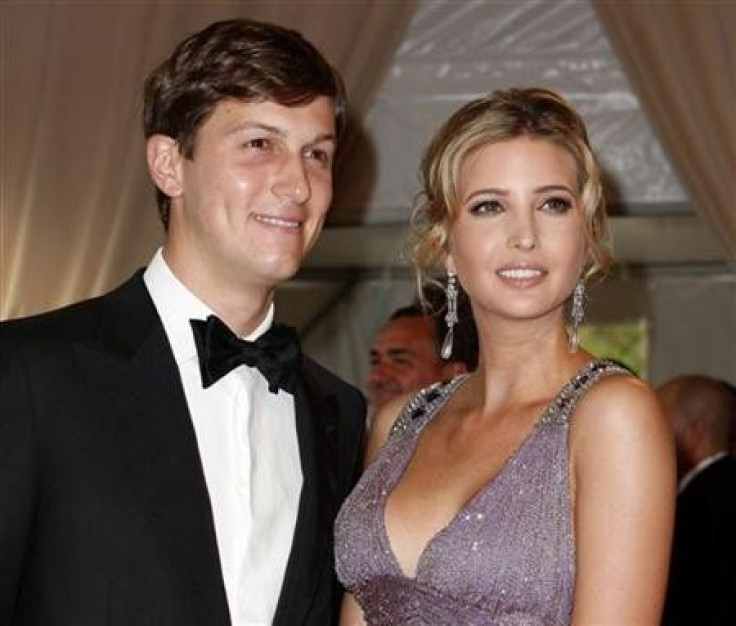 Donald Trump's son-in-law has defended the GOP candidate over claims he used anti-Semitic imagery in his campaign.
Trump was accused of being anti-Semitic after he released a meme depicting Hillary Clinton's face on a stack of dollar bills, with a six-pointed star – or the Jewish Star of David – with the words 'most corrupt candidate ever' on it.
But Jared Kushner, who is married to Trump's daughter Ivanka, said the Republican had 'embraced' his Judaism since he had met the billionaire's daughter.
In a statement sent to The Wrap, Kushner said: "My father-in-law is an incredibly loving and tolerant person who has embraced my family and our Judaism since I began dating my wife.
"I know that Donald does not at all subscribe to any racist or anti-Semitic thinking. I have personally seen him embrace people of all racial and religious backgrounds. The suggestion that he may be intolerant is not reflective of the Donald Trump I know."
Ivanka Trump converted to Judaism after meeting the 35-year-old businessman and property developer, and the couple's three children are Jewish.
Kushner's statement came in response to an open letter from one of his employees, reporter Dana Schwartz, who works at The New York Observer, which is owned by Kushner.
She wrote: "I responded to the meme, calling out its blatant anti-Semitic imagery because people can play ignorant, blame the corrupt liberal media for trying to 'get' Trump, but it takes only a basic knowledge of world history or an understanding of how symbols work to see a wall of cash, a Star of David, and the accusation of corruption and not see the subtext.
"But deny or play dumb as you might, when I tweeted out my response, my worst fears were realized: his message, whether purposeful or inadvertent, was met with cheers by those to whom that star's message was certainly clear. Mr. Trump's tweet was seen as a winking promise to this nation's worst and most hateful individuals."
The writer said she had received a number of anti-Semitic messages after she criticised Trump's meme, and said his attempt to correct the mistake had made things worse.
"A few hours later, Trump deleted the original image and re-tweeted it out, this time with the star crudely covered by a circle (the tips of the star still visible), and a new hashtag: #AmericaFirst," she wrote.
"Forgive me if I condescend in any way or explain what you already know, but I'm sure you've been busy lately so just a quick refresher: America First was a movement led primarily by White supremacist Charles Lindbergh advocating against American intervention during World War II.
"The Anti-Defamation League has previously asked that Trump refrain from the slogan due to its overt anti-Semitic implications."
Trump claimed after the backlash against his meme that the star was intended to represent the type of star seen on a sheriff's badge and said the dishonest press was responsible for interpreting the image as a Star of David.