Jason Cundy played for Chelsea and Tottenham Hotspur during his playing career, and now regularly commentates on games at Stamford Bridge.
Here, in his first column for IBT, he gives his views on recent speculation that Jose Mourinho's all-stars can complete the entire season without defeat.
Naturally, given the start Chelsea have made, people have started talking about them becoming the Invincibles 2.0, and completing the entire Premier League season without losing. Many fans have asked me about this, so here's my take.
In my view, Arsenal's achievement of 2004 will never be repeated. A side will never go through an entire Premier League season unbeaten again. It was a freak of nature and, before they actually did it, I would have said it was impossible.
Don't forget Chelsea are fighting on all four fronts this year, and there has to be a moment when the ref gives a decision against them, key players get injured, or a few players just have an off-day in the same game. The way Chelsea are attacking at the moment, they're quite vulnerable at the back, and I just don't see them avoiding defeat for an entire nine-month campaign.
People can compare Chelsea's team this season with Arsenal's Invincibles, and ask which is better. But I actually think the Chelsea side in Jose Mourinho's first season, 2004-05, was better than the Invincibles team; don't forget they accumulated more points. Duff, Robben, Makalele, Lampard, Drogba... it's hard to find a fault with that unit.
But even that great Chelsea team couldn't complete the season unbeaten. They lost at Man City, to a penalty, which just goes to show how important luck and refereeing vagaries can be.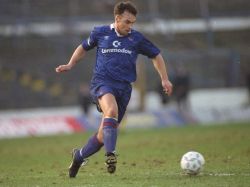 Sure, the Invincibles have gone down in history, and deservedly so, but you have to ask: where did that Arsenal side go after 2004? They haven't won the Premier League in the last decade, whereas Chelsea have won it three times. Setting a record is great, but this Chelsea team could create a legacy - something which that great Arsenal team couldn't manage.
The unbeaten record certainly won't worry Jose Mourinho. When Arsenal set that record 10 years ago, there were a lot of draws towards the end, and maybe they were too concerned about the record. Jose won't let statistics dilute his focus, he wants to win everything.
As someone who played for Chelsea, and still supports them, I totally support Jose's approach; I'd much rather win both the Premier League and the Champions League than set an unbeaten record. It's hard to fight on two different fronts, because it throws up so many different challenges. Going to somewhere like Maribor is a very different test than, say, going to Hull.
In fact, if we're being greedy and talking about what we'd like on top of the league trophy, I'd rather win the FA Cup than do what the Invincibles did. The domestic double is still a hugely prestigious achievement, and enormously challenging.
I think Chelsea will win by at least 10 points this season. Man City will be the nearest and the only challenger. Arsenal are flat-track bullies, and Chelsea will probably win at the Emirates. Let's be frank, this is the worst Man United team in Premier League history, and it probably won't even get fourth at the moment. It's hard to see past Chelsea at the moment for me.
How good can this Chelsea team become? Well, it's hard to say at the moment. Martin Keown, who played for the Invincibles and for the Arsenal title-winning sides of 1998 and 2002, said it might be the best Premier League side of all time, and it's certainly got all the makings of genuine greatness. It might even prove Keown right and become the best of all time. But, for me, it's got a long way to go to beat the class of 2005.
Jason presents the popular Sports Bar radio show on TalkSPORT, and you can find out more about his work with the station here.
He also commentates on Chelsea games for Chelsea TV, working with fellow IBT columnist David Chidgey, and is a prolific member of the Twitterverse.