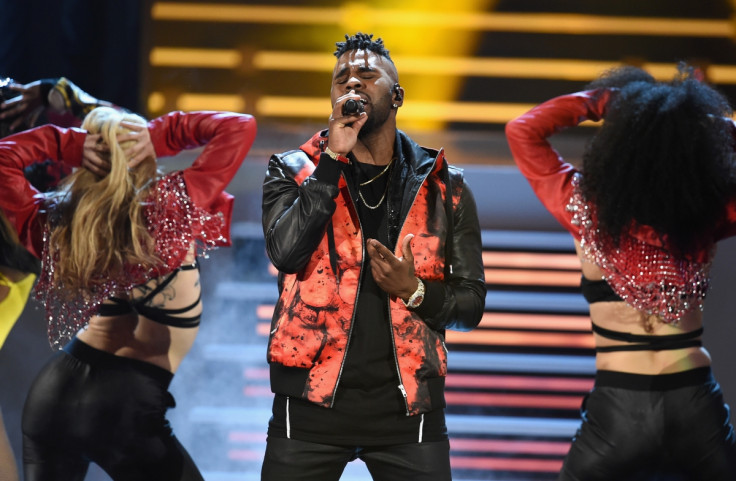 Four years after he was forced to cancel his world tour due to a devastating neck injury, Jason Derulo finally got his turn to command the stage at London's O2 Arena on 5 February. Headlining the O2 Arena is no easy feat single-handedly but Derulo created a well-rounded show which delivered on most accounts from slick choreographed routines, eye-catching stage production and a slew of hit singles. IBTimes UK was amongst the 11,000 fans who filled the arena to watch the pop star do what he does best.
For an artist with such a dominant stage presence, the O2 Arena is the perfect venue for Derulo to showcase his talents. From the minute he stormed the stage with anthemic 2014 single Trumpets, everything during the show progressed from bigger to bolder. This is where Derulo's performance excels, delivering high-energetic routines to fan-favourite tracks Wiggle, Get Ugly, The Other Side and Don't Wanna Go Home.
Weighing up Derulo's competition on the dancing front, Chris Brown is the only other prominent male artist who comes to mind when taking the mainstream pop landscape into consideration. Thus, Derulo is almost unmatched in this area and his near-death experience in 2012 makes the level of his choreographed routines even more unbelievable.
Derulo is quite the showman, evident in his ability to transition from the topless heartthrob serenading the audience in the rain with Naked to preaching about hardships and a materialistic woman on Broke. In fact, his collaboration with legendary singer Stevie Wonder on the latter provides for one of the most endearing moments of the night. Recalling his mother's sweet reaction when she learned he would be collaborating with the Motown icon only humanised the singer against an exterior of flashy jewellery, money and chart-topping hits.
The directional transition Derulo's music has experienced over the last seven years is evident in his wide-ranging catalogue – earlier hits Whatcha Say, Riding Solo and In My Head are strictly laced with pop while later singles Talk Dirty, Get Ugly and Pull Up are tinged in hip hop. Fortunately, the result is there's something for everyone but the variety sometimes staggered the flow of the show – one minute Derulo is thrashing out the latest dance trend to trap music but then belting out a pop ballad with Little Mix the next.
The constant shifting between styles of music also meant Derulo's vocals occasionally suffered in the process. There is no denying the Florida-native's ability to sing – his higher-ranged falsettos were at times impeccable – but his vocals were either pitchy or strained when out-of-breath following a high-powered dance routine.
Derulo, 26, clearly has a special bond with his fans and made sure to fully involve and engage with them throughout the night, in one instance persuading the entire arena to become his backing dancers making for a light-hearted moment. However, the segments where he played archive footage of his interviews, mused on life while talking to the audience on a set of stairs and delivered a quite obviously rehearsed exchange with his hype man were extremely cheesy.
Nonetheless, Derulo gave the audience what they ordered and more with a thoroughly enjoyable performance featuring something for all ages and music genres. The new tour has been a long time coming and fortunately, it was worth the wait.