Jay-Z has defended his music streaming service Tidal against critics by saying the new audiophile venture is "doing just fine" and already has 770,000 subscribers.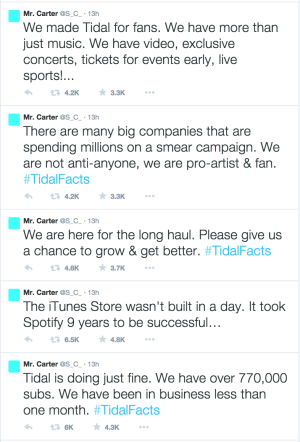 Last month hip hop mogul Jay Z (whose real name is Shawn Carter) added another venture to his burgeoning business empire, launching Tidal, a new streaming service to rival the likes of Spotify and Deezer. But with early reviews of the high-res subscription service being less than enthusiastic, the rapper decided to voice his opinion in a stream-of-consciousness-style rant on Twitter.
On Sunday, 26 April, Jay-Z pointed out to critics that Tidal had been in business for just one month and that previous success stories didn't happen overnight: "The iTunes Store wasn't built in a day. It took Spotify nine years to be successful."
Tidal, which has 16 celebrity owners in total, is positioning itself at the premium end of the market, offering near CD-quality audio with music streamed at 1411 kilobytes per second (kbps). By comparison the best Spotify offers is 320kbps.
Disappeared
However the app has all but disappeared from Apple's App Store in the last four weeks, dropping out of the top 500 as early as 18 April and dropping as low as 870 last week according to data from market research company App Annie.
Recent rumours suggest the rapper will exclusively launch his new album with his wife Beyonce on Tidal as a way of promoting the service, but that has not helped bring the app back into the top 500 on the App Store.
Jay-Z however said he was in this for the "long haul" pleading with customers to "please give us a chance to grow and get better". The rapper also indicated that rivals were "spending millions" on smear campaigns against Tidal though he failed to name which companies he believed were doing this.
The media mogul also highlighted the fact his service paid all artists 75% of royalties and some indie bands would get 100% royalties.
"We have Tidal X - it supports artists by giving them a platform to connect with their most loyal fans. Tidal is for all. Our actions will speak louder than words. We made Tidal to bring people the best experiences. and to help artists give that to their fans over and over again," the rapper says.