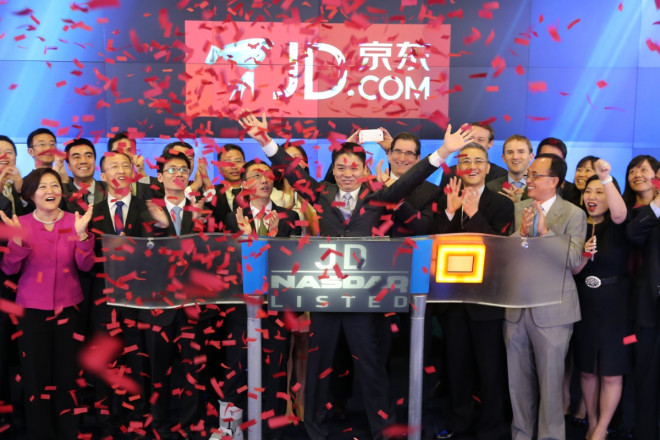 China's online retailer JD.com has listed its shares on Nasdaq after making the largest initial public offering so far by a Chinese company in the US.
The company generated $1.78bn (£1bn, €1.3bn) from the issue of 93.685 million American Depositary Shares (ADSs) at $19 apiece. Each ADS represents two class A ordinary shares in the company.
The ADSs that are trading under the ticker symbol "JD" rose 10% on debut day and closed at $20.90. The company currently has a market cap of $15.3bn.
BofA Merrill Lynch and UBS Investment Bank acted as joint global coordinators and lead joint book-runners for the offering.
The company also expects to receive additional gross proceeds of $1.31bn from the issuance of 138 million class A ordinary shares to Tencent at the IPO price in a private placement concurrent with the closure of the offering.
JD.com is the largest online direct sales company in China in terms of transaction volume in 2013, according research firm iResearch. It operates e-commerce website www.jd.com and a number of mobile applications.
It has seven fulfilment centres and a total of 86 warehouses with an aggregate gross floor area of approximately 1.5 million square metres in 36 Chinese cities. In addition, it operates 1,620 delivery stations and 214 pickup stations across China. It provides same-day delivery in 43 cities and next-day delivery in another 256 cities.
Earlier, Chinese e-commerce giant Alibaba filed an initial prospectus for a public offering of its shares in the US, looking to raise about $1bn. However, the actual IPO amount is expected to be significantly higher.
On 16 May, Jumei International Holding Limited, China's online retailer of beauty products, made its IPO debut on the New York Stock Exchange after raising $245.1m.
Other Chinese companies that listed on US stock exchanges in 2014 include IT education provider Tarena International, privately held medical services provider iKang Healthcare Group, micro-blogging site Weibo, online-to-offline real estate services firm Leju and online leisure travel company Tuniu and Cheetah mobile.